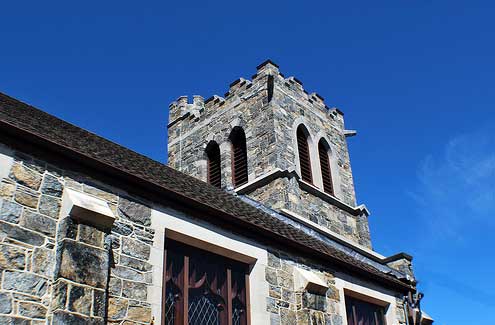 9th Annual Blessing of the Animals
Grace Episcopal Church
8 Chapel Hill Road
Yantic, CT.  06389
Sunday, May 25 at 1 PM
Phone; 860-887-2082
For Immediate Release – May 12, 2014
Media Contact; Kevin Harkins, 860-886-0762
A special blessing for animals will be offered in front of Grace Church in Yantic at 1 o'clock on May 25.
The public is invited to bring animals and pets to receive prayer and blessing at 1 PM on Sunday, May 25, in front of Grace Episcopal Church in Yantic.  The annual event takes place on Rogation Sunday, a day set aside to ask God's to watch over crops and creatures of all kinds.  Father Peter D'alesandre, Vicar of Grace Church, will preside at the short afternoon service.
"Cats, dogs and other animals are more than welcome", said John Baldwin, Senior Warden at Grace Episcopal Church.  Baldwin suggests that our four pawed friends be leashed or in carriers as they will be close to other animals.
Rogation Sunday is the day when the Church has traditionally offered prayer for God's blessing on the fruits of the earth and the labors of those who produce our food. The word "rogation" is from the Latin rogare, "to ask."
Since 2006, Grace Church has been conducting this simple service giving thanks and seeking divine mercy for all growing things.  Those whose animals are unable to attend are encouraged to bring an item belonging to that creature such as a toy, food dish or bridle, for example.  The service takes place on the driveway in front of the historic old church.
Grace Episcopal Church is a parish of the Episcopal Diocese of Connecticut and offers a safe, welcoming community for all ages.  Weekly worship services and Christian education take place at 9:30 AM each Sunday, and child care is available.
To learn more about Grace Episcopal Church in Yantic, visit-
Or call, 860-887-2082.