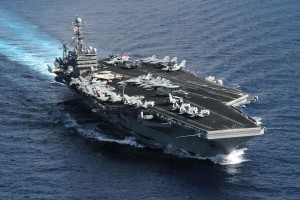 GROTON, Conn (April 29, 2014) – Twenty-five Sailors of "Class 14220" USS THEODORE ROOSEVELT (SSBN-600), graduated from Basic Enlisted Submarine School, Friday, 2 May.
Seaman John Yumol was Class Honorman with a Grade Point Average of 96.50. John continues in the Apprentice Team Training pipeline.
Seaman Matthew Hathcock was recipient of the Submarine Heritage Award.
Seaman Eric Reinhart received the Navy Core Values Award for best exemplifying the standards and expectations of a United States Navy Sailor.
Seaman Apprentice Samuel Neumueller was meritoriously advanced because of his academic performance.
With Grade Point Averages of 90.0 or higher, Electronics Technician 3rd Class Tristan Ferguson, Logistics Specialist 3rd Class Keith Fanning, and Seaman Recruit Michael Wurster joined Seaman William Moore as Graduates with Distinction.
Basic Enlisted Submarine School is a six-week introduction to the basic theory, construction and operation of nuclear powered submarines. In preparation for an assignment, sailors receive instruction on shipboard organization, submarine safety and escape procedures.