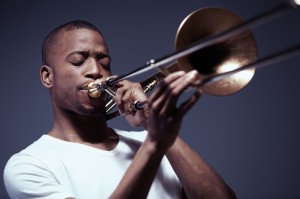 Jazz | Americana/Roots

Troy Andrews, also known by the stage name Trombone Shorty, is a 28 year old trombone and trumpet player from New Orleans, Louisiana who began playing trombone as a child and has played in the band Orleans Avenue since 2009. The band stirs together old-school jazz, funk and soul, laced with hard-rock power chords and hip-hop beats and they've added some tangy new ingredients as they keep pushing the envelope, exploring new musical territory.

Andrews has made quite an impression on the critics. "Trombone Shorty is so ready for his close-up," The New York Times reviewer Nate Chinen wrote, describing the young virtuoso as "a native prodigy destined for breakout success." The San Francisco Chronicle's Joel Selvin hailed him as "New Orleans' brightest new star in a generation." And the Washington Post's Mike Jo yce described one live performance as "a near-deafening, funk-charged blast of percussion, brass, reeds and guitar distortion that might have knocked the crowd sideways had there been any room to move."

Andrews hails from the Treme neighborhood in New Orleans' 6th Ward, getting his nickname at four years old when he was observed by his older brother James marching in a street parade wielding a trombone twice as long as the kid was high. Originally attracting attention for his youth, by his teens he was attracting attention for his musical virtuosity as well. He attended the prestigious New Orleans Center for the Creative Arts and as a graduate he joined the ranks of others like Wynton Marsalis, Branford Marsalis, Harry Connick, Jr., Irvin Mayfield and Nicholas Payton.

In 2003 he was one of five young musicians chosen as the subject for a PBS television documentary and performed on the network's nationally broadcast tribut e to Louis Armstrong, directed by Wynton Marsalis. Andrews has appeared with the Lincoln Center Jazz Orchestra, and has performed with U2 and Green Day during the re-opening of the New Orleans Superdome for the NFL's Monday Night Football pre-game show. He has traveled extensively overseas, playing concerts and festivals in Cuba and Europe and has appeared at the Vienna Jazz Festival, the North Sea Jazz Festival, and the Istanbul Jazz Festival.

He appeared as himself in four episodes of the 2010 HBO series "Treme." In 2010, Andrews released "Backatown," which peaked at #3 on the Billboard Contemporary Jazz chart and stayed there for nine consecutive weeks, garnering a Grammy nomination. Since then, Trombone Shorty & Orleans Avenue has grown creatively while winning hordes of new fans performing nonstop on five continents. His 2011 album, For True, debuted at #1 on the Billboard Contemporary Jazz chart and stayed there for twelve weeks. In September of 2013, he released his third Verve offering, Say That to Say This,coproduced by Andrews and kindred spirit Raphael Saadiq. The bandleader and multi-instrumentalist describes Say That To Say This as "really funky, like James Brown mixed with The Meters and Neville Brothers, with what I do on top, and we have a bit of R&B from Raphael's side."< br />
Orleans Avenue features guitarist Pete Murano, bassist Mike Ballard, drummer Joey Peebles, Tim McFatter on tenor sax and Dan Oestreider on baritone sax.

Andrews has also done a ton of TV, appearing on The Late Show With David Letterman, The Tonight Show With Jay Leno, Jimmy Kimmel Live, Late Night with Jimmy Fallon, Good Morning America and Austin City Limits, among others. Along with appearing on Jeff Beck's Les Paul tribute tour, he's been a featured guest musician on releases from Eric Clapton, Zac Brown Band, Rod Stewart, Lenny Kravitz, Cee Lo Green, Galactic, Dr. John and Robert Randolph. The band was also chosen to play the closing set at the 2013 New Orleans Jazz and Heritage Festival, a huge honor in the world of true music lovers.

But for Andrews, the biggest thrill of all was performing at The White House in February 2012 as part of a PBS performance. "That was a dream come true about 50 times o ver," he says. "When we started playing, I forgot I was at the White House because I was on stage with all this musical royalty – B.B. King, Mick Jagger, Booker T. Jones, Jeff Beck, Susan Tedeschi and Derek Trucks, Gary Clark Jr., the list goes on. And then, when I turned to the audience, there's the President and the First Lady. I'm like, 'This can't be happening'."

Good things continue to happen for Trombone Shorty, thanks to his virtuosity, his dedication, and his ability to move people. That he pursues his passion with such humility and unpretentiousness makes his still-unfolding story as compelling as the music he's making along the way.