On Thursday, October 25, as the final speaker in the 2018 Program Series – Musings on Museums – the Friends of Fort Trumbull State Park announce that Captain (Ret.) Wes Pulver will be the presenter. In 2015, Captain Pulver was appointed as the Executive Director of The National Coast Guard Museum Association, Inc. (NCGMA).
Captain Pulver, a 1987 graduate of the United States Coast Guard Academy, holds a Master of Engineering degree in Operations Research and Industrial Engineering from Cornell University. From 2010-2015, he was the Coast Guard Chief of Congressional Affairs. From 2012-2015, he was also the Commanding Officer of the Coast Guard Barque EAGLE. Captain Pulver, who has had 28 years of distinguished service to the USCG, is honored to now lend his talents to making the National Coast Guard Museum a reality. He has said, "I am proud to be involved with a project of such importance. Bringing the story of our Coast Guard and its 225 years of service to a National audience strengthens the bond of our citizens, and strengthens the Coast Guard for generations to come."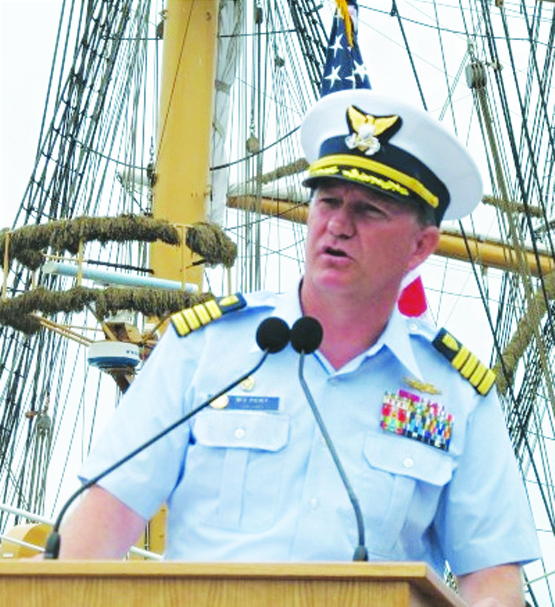 The National Coast Guard Museum will honor the heroism of the men and women who answered the call to always be ready, as in the Coast Guard motto: Semper Paratus. Permanent and revolving multimedia exhibits will tell compelling stories of the past, the present and the future as they evoke the Coast Guard's critical role and mission in maritime security, safety, protection of natural resources, and national defense. The museum will use interactive and modern technology to engage the public, veterans and present Coast Guard men and women as they serve our nation now and into the future.
The National Coast Guard Museum Association, Inc. is a private nonprofit organization dedicated to the preservation and promotion of the United States Coast Guard history and tradition. For more information or to make a donation, contact the National Coast Guard Museum Association at 860.443.4200 or visit www.coastguardmuseum.org, and follow @USCGMuseum on Facebook and Twitter.
The presentation is at 7 pm in the Conference Center at Fort Trumbull State Park, 90 Walbach St., New London.