The Resident Good News interview with Nick Caplanson, President and CEO, Dime Bank.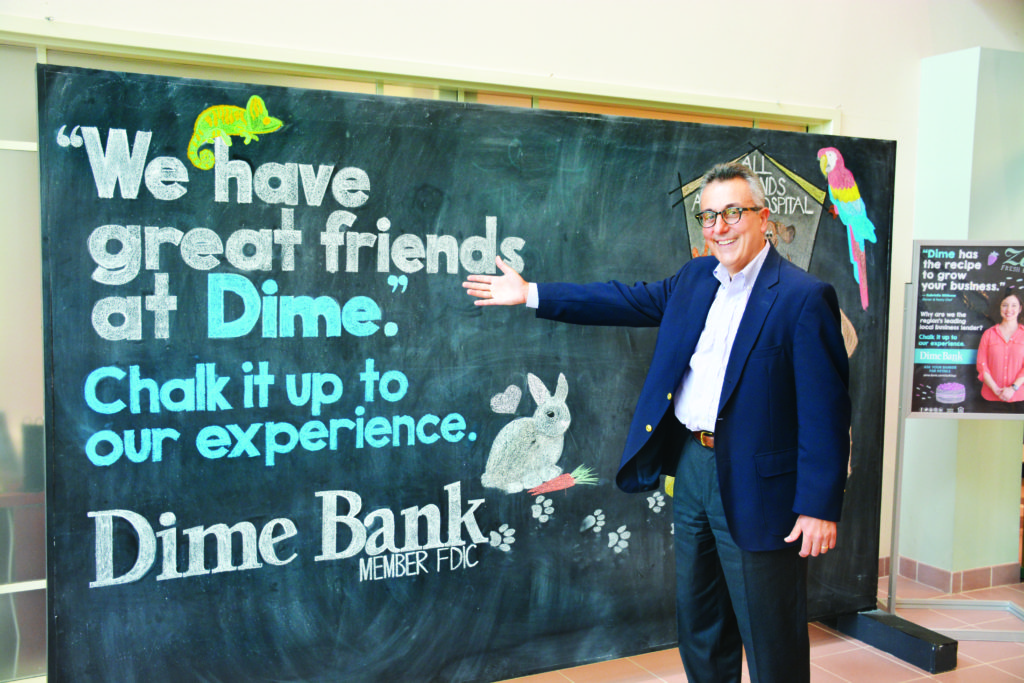 Alexis: If you could change one banking regulation, what would it be?
Nick: There is a differentiation in regulations that applies to large money-centered banks versus medium versus community banks and that was not the case three-four-five years ago. But in the last year-and-a-half or so, we are starting to see things loosening up and particularly as they relate to mortgage lending. The mortgage lending rules have become less restrictive for the community bankers who actually understand their customers better and are able to evaluate credit needs and make good loans as opposed to mortgage companies and big banks that just lend money that they shouldn't have lent to people that shouldn't have been able to borrow.
We've demonstrated, as a group within our industry, that we know what we are doing. We don't have irresponsible players. We have the best interest in the community and customer equivalent. So, it is loosening up a little bit, and I think a continuation of this is what we need to see.
Now, having said that, I don't think that regulation is necessarily bad. I think we have to have some regulations. But there should be a reasonableness factor. A 'one size fits all' mentality doesn't work. I think our government is starting to see that and that's encouraging — it is a positive thing.
Alexis: Are the online lenders like the Quicken Loans and Rocket Mortgage types loan processes comparable to smaller community banks?
Nick: No, they are not. As a matter of fact, regulators are trying to figure out exactly where these non-bank online lenders and financial companies fall, and right now they are not subjected to the same regulations as banks. They don't have Community Reinvestment Act requirements like we do and other banks do. Their disclosures and their fee structures are different. They are not financial institutions, so they are in this grey area that doesn't fit into a nice little bucket and the regulators are trying to figure out how to apply regulations.
Online lenders are playing to a trend — people like convenience; people like applying for loans on their phone, sometimes even not getting off the couch. Fees do not seem to be a deterrent for people. They are willing to pay for it if they don't have to spend time sending emails or paperwork to banks and other financial institutions. So, that is a trend, firmly taking hold. But for the rest of us banks and credit unions, we are trying to enhance technology in order to be as competitive as we possibly can with all the online players. That is truly where our industry is going — electronic transactions, mobile banking, etc.
Alexis: What is the most challenging hurdle in the banking business today?
Nick: Technology is one of them because it costs a lot of money to develop and enhance. And, to move quickly enough to capitalize on it. So that is challenging but we are making good progress in that regard. One of the things that people don't think about that is a significant challenge — not only in our industry but in our Connecticut market — is hiring people. We don't have a population growth or economic expansion. We don't have younger professionals who are actually as interested and motivated to get into our industry. They are moving to Boston and New York. It poses a significant challenge for us as a financial institution.
Whenever I am out talking to people and talking to young folks in their 20s or 30s, I am encouraging them to join us at Dime Bank. We have an internship program where we try to get high school students in here early to educate and demonstrate that banking is a viable career without a lot of competition.
Alexis: Are you hiring people for your internship program without college?
Nick: College is not a prerequisite. We always encourage furthering your education but for example, we hire kids who are in college who come here on summer break and holidays. Sometimes, we hire students as soon as they graduate.
Getting qualified people is difficult, and unfortunately, that's the future. So attracting, training and retaining young people is what we want.
Alexis: Let's talk about Colchester. How is that working out?
Nick: We love Colchester, we will be looking at transferring the model. We are evaluating every single branch in our network to determine whether it makes sense over the next year or couple years to change the model. Colchester is a small footprint — only 1,400 sq/feet. It has no teller line. You can walk all the way around the pod and there is no security issues with cash because there is a cash recycler. You cannot rob a recycler. Customers love it. Initially, they didn't even know it was a bank. They thought it was a store. It is very different.
We do have some private offices for customers that prefer privacy, but we also have this area called, "the Solutions Booth," which literally is a restaurant booth. This is a trend that started in Europe in banking. Today, customers want to be casual and feel comfortable in a banking setting. Now it is catching on in the US, so we put a Solutions Booth in Colchester. It is interesting. You and I may not want to talk about our personal finances out in the open with people walking by but customers under 40 years old don't want to go into an office. They want to sit in a Solutions Booth. You can sit with a cup of coffee and something to eat in a casual atmosphere. It is a very different situation.
We also have a small business area for local business owners. They are welcomed to fax, phone or connect to our Wi-Fi. This service is open to the community and you don't have to be a Dime customer.
Our "universal bankers" are not tellers, they are like consultants with the ability to do it all.
Alexis: Does it save the bank money?
Nick: It saves money in a lot of ways.
1. Much more flexible staffing model. You don't have to have one person designated to the teller line or to customer service, management or loans.
2. The technology piece improves on cost too.
3. Physical footprint. It is so much smaller. So you are saving on everything. Whether it is rent or utilities or whatever. The cost of operating a physical location is a lot less.
We also have a state-of-the-art drive-thru with a different technology there. There is a two-way flat screen for customer-universal banker communication.
Our Colchester demographics are younger with two household income.
Alexis: How many branches are there?
Nick: Twelve.
Alexis: What do you like best about your job?
Nick: Diversity and nothing ever stays the same. It is a faster-paced industry than it's ever been in my career. One of the challenges — banking used to be slow-moving and it used to be: "Well… we will think about this. We will evaluate this. And maybe in a year or two we will implement this." Now, you cannot think like that. You've got to move and move quickly!
With the advent of online financial services, deposit gathering, and Rocket Mortgages, you cannot wait around.
Fifteen months ago, we converted our core technology system to develop some more advanced capabilities for customer-facing technology. For example, being able to open accounts online, as opposed to walking into the branch. Mobile deposits, not only for businesses, but also for consumers. Those types of things are the norm now and are expected. It is not a novelty. It is not "let's think about it." It's required to be competitive. So we are looking at enhancing that platform and looking for what is coming out next because you have to know.