by Karen Koerner
A threat of rain didn't dampen the spirits at the Sun BBQ Fest, held June 3 and 4 at the Mohegan Sun.
The scent of wood smoke and cooking meat wafted over the Festival while visitors enjoyed toe-tapping sounds of live music by bands like the Jay Dempsey Band, Will Evans and the 20Ride ZZ Top Tribute Band on Saturday. Sunday's event was enlivened by the sounds of the Green Tea Band and Southern City Band.
Two kinds of people were in attendance. Some, like Ted Sherman, Carrie Reed, and her son, Nick, visited from Westerly RI simply to enjoy the experience. They started their day at the Sun BBQ Fest as students at the Weber Grilling Academy, learning the tips and tricks to cooking great pizza on a grill.
"This is our second year," Carrie said. The family learns a skill at the Academy and practices at home.
After "graduation" from the grilling academy, the party could sample tasty treats from vendor and competitor tents, learn more tips from other grilling experts, enjoy music, drinks, and displays.
Then there were the more serious group of participants: The competitors who travel from all around the country to competitive events like this, vying for prizes, titles and acclaim for their smoking and grilling talents.
The Backyard Smokers didn't travel far. They are based in New London and they are serious about their barbecue. "We won People's Choice two years in a row," said Matt Kern, a member of the Backyard Smokers crew. They will compete in four festivals like this in the coming year. The Sun BBQ Fest kicks off their competitive season.
Chris Herbbete owns the company, which caters and competes. "We believe in hard work and quality product. We like to bring the barbecue from our back yard to yours," Chris said. Among this year's winners in the Kansas City Barbeque Society Competition was local first place winner John's Twisted Q based in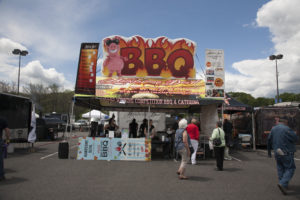 .
The line of people waiting to sample and cast their votes in the People's Choice Rib Challenge stretched far outside the tent but moved quickly. Dozens of competitors presented their best, and the lucky samplers were the real winners.
Myron Mixon, a four time World BBQ Champion, installed in the BBQ Hall of Fame, and called by his devotees, the "Winningest Man in BBQ," held court in his tent, demonstrating how to prepare and cook a brisket that is juicy, flavorful, smoky and tender. A crowd extended from inside to outside the tent, and samples of his brisket proved his titles to be well deserved.
Fireworks ended the evening Saturday, but the entire Festival provided a sparkling beginning to the barbecue season.