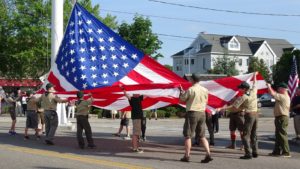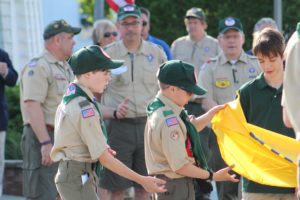 by Karen Koerner
Scouts from Mystic Boy Scout Troop 76 placed American Flags along downtown Mystic Streets, then in a ceremony at 7:45am June 14, raised the large, billowing American Flag at the Mystic Liberty Pole near the drawbridge to celebrate Flag Day.
Guided by Richard Dussault, Flag Captain for the Mystic Flag Committee, scouts also raised the Groton and Stonington flags on the pole's yardarms. Members of Mystic's VFW Post 3263 led the group of about 50 people in the Pledge of Allegiance.
"Nice job, boys," called out a man in a blue GMC pickup truck, stopped at the Liberty Pole driving circle during the ceremony. The flag-raising is an annual event, when the Scouts, community members and members of the Mystic Flag Committee pause to honor the Stars and Stripes, which the Second Continental Congress adopted as the Flag of the United States on June 14, 1777.
One of those looking on was Mystic resident Michael Keenan, who carried with him information about his brother, Joseph Keenan, killed in Korea in 1953. Michael is working to revive his fallen brother's nomination for a medal of honor. "Patriotism means a lot," he said, explaining why he was there to see the flag ceremony.
A Wisconsin teacher first proposed celebrating the Flag Birthday in 1885. Other organizations began to observe the day, and President Woodrow Wilson proclaimed Flag Day by resolution in 1916. President Harry Truman strengthened the date in 1949 when he signed an Act of Congress designating June 14th of each year as National Flag Day.
Members of the Mystic Flag Committee met for a delicious breakfast at the S&P Oyster Co. following the ceremony. Bob Cushman, Vice President, led the meeting in the absence of John H. Kennedy, President. Bob thanked the scouts for their dedication. "They put up 110 flags along the streets of Mystic on every patriotic holiday," he noted before presenting a donation to the troop to Rob Bunger, Assistant Scout Master.
"We appreciate the opportunity to do that every year for the community," Rob responded.
Information about supporting the Mystic Liberty Pole is at www.mysticlibertypole.com.