story & photo
by Alexis Ann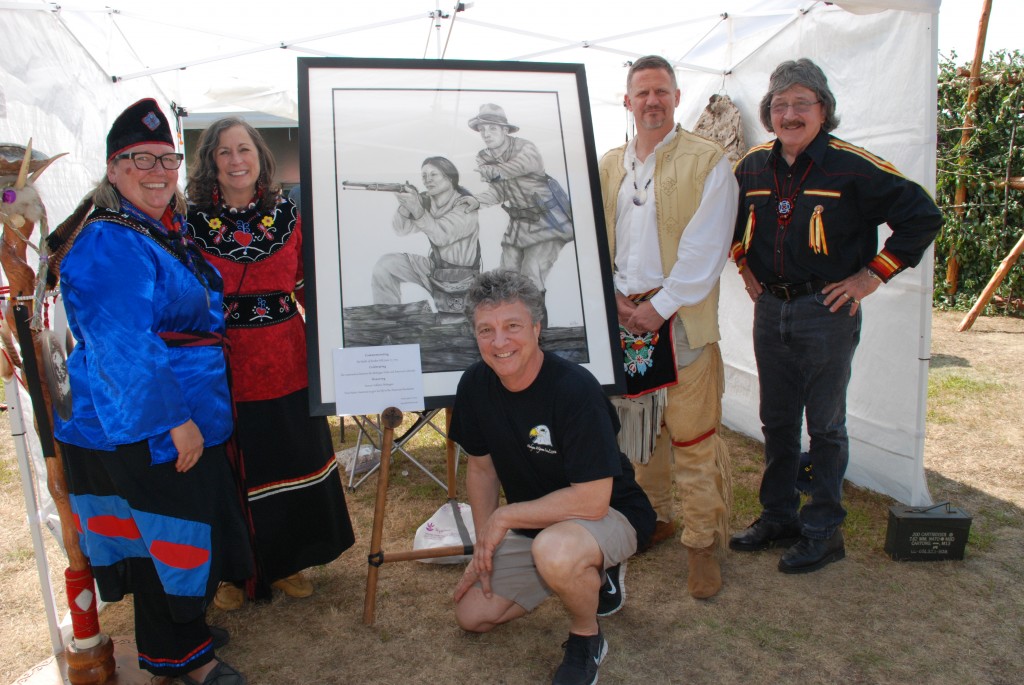 Mohegan Tribe's Medicine Woman Melissa Tantaquidgeon Zobel, Mohegan Lifetime Chief Lynn "Many Hearts" Malerba, Graphite Pencil Artist John D. Herz, Chairman, Kevin Brown, Mohegan Tribal Council, and Maynard Strickland, Tribal Councilor, retired, gather around  this historical work-of-art.
They say that a picture is worth a thousand words. In the case of the drawing created by John D. Herz, graphite pencil artist, the visual is more than words. This rendering evokes deep emotion and depicts the camaraderie between the American Colonists and the Mohegan Tribe while honoring Samuel Ashbow, a Mohegan Warrior and the first Native American to give his life in the American Revolution at the Battle of Bunker Hill, June 17, 1775.
John Herz, a longtime friend of Maynard Strickland, Mohegan Tribal Councilor (ret) was commissioned by the Tribe to create a visual demonstrating the Mohegan Tribe's relationship with the early American settlers. This project was fostered by Chairman Kevin Brown, retired Colonel, US Army.
"After a tremendous amount of research and with the help of Nonner Faith Damon Davison, I was able to detail the clothing, rifle, etc., offering a more realistic view of the era," explained John. "It was a history lesson!"
The work of art was unveiled inside Mohegan Tribe's Government Center before displaying it at their annual Wigwam Festival last month. This lifelike rendering was a show stopper, attracting Tribal members from around the globe.
History of Samuel Ashbow
The son of the Reverend Samuel Ashbow, 29 year old Samuel Ashbow, Jr, was a man of peace. His wife and two year old son gave him all a man could want to live for. As much as he loved peace, he loved honor more – when tyranny and injustice rose up to threaten Colonial New England, Samuel answered the call to arms. His Bloodline could not stand inactive when cruelty threatened to prevail – he was a proud member of the Mohegan Tribe.
Musket held, Samuel marched with other members of the Connecticut Colonial Militia 75 arduous miles overland from Norwich to Cambridge, Massachusetts. Having been among the first to enlist in winter of 1775, Samuel joined other kindred brave souls on the hills surrounding Boston to drive the British Army and Royal Marine from the vital port. One of the high grounds was called Bunker Hill.
The Colonial Militia who took up position of defiance to the world's most powerful empire was a reflection of the America that their efforts would give birth to – diverse races, ethnicities, persuasions, and faiths, some poor, some wealthy – united in a quest for equality and self-determination.
On the morning of June 17, 1775, the elite forces of Britain stormed the hastily thrown up defenses of the Colonists. Backed by artillery, row upon row of Redcoats assaulted the hills. The Colonists were out-gunned and out-numbered – they held their ground. A Nation's birth held in the balance.
The third British wave breached the Colonial positions. Out of ammunition and lacking bayonets, the Colonists fought steel with their bare hands. Samuel Ashbow, Mohegan Warrior, died that the new Nation might live. He was buried in a mass grave, his Mohegan Blood mixing with that of his fellow Patriots. America took root and grew from that soil.