First Recipient of MPTN Lifetime Achievement Award Is Richard "Skip" Hayward:
A Missing Piece of the Puzzle Was On the Sidelines
Foxwoods Resort Casino's 25th Anniversary Tribal Council Gala was a lavishly joyous occasion held in the Premier Ballroom, Fox Tower on August 19. Tribal members, community leaders, Foxwoods team members and executives from past and present with patrons all gathered to celebrate and honor friendship, loyalty and patronage over the past 25 years.
Spirits were high! Upon entering the elaborately decorated ballroom, you couldn't help but catch the flow of positive energy. Friends from the past and present swarming around Richard "Skip" Hayward offering thanks for his dynamic leadership, bold vision and dedicated service to the Mashantucket Pequot Tribal Nation (MPTN). Lots of handshaking and hugging was going on. It was a 'feel good' party.
Yes, for many years, Skip was the missing piece of the puzzle, or as one would say, "he was on hiatus" from events like this at the ever so successful gaming/entertainment empire that he built. But, according to him, "I was on the sidelines." Elected as chairman of the Mashantucket Pequot Tribe in 1975, Skip's vision for community development helped pave the way for establishing the first tribal housing authority in the State of Connecticut in 1977. He built the first on-reservation housing development with a grant from the U.S. Department of Housing and Urban Development.
He began the Tribe's Sugar Shack maple syrup operation still thriving to this day, and several other business ideas to secure the Tribe's economic stability. Upon winning the Tribe's Federal Recognition in 1983, Chairman Hayward championed the construction of the Mashantucket Pequot High Stakes Bingo Hall, which opened in 1986.
Following Bingo, Skip secured a $60M investment from a Malaysian billionaire and the rest is history—the first Native American casino was built—Foxwoods Resort Casino. Throughout much of the nineties, Foxwoods remained the largest and most profitable casino in the western hemisphere. Twenty-five years later, it is one of North America's largest and the "Wonder of the Connecticut Woods."
To date, MPTN has contributed over $4 billion to the State of Connecticut through a first-of-its-kind slot revenue sharing agreement, which became an example for similar agreements nationwide.
Each year, the tribe invests approximately $100M in local vendor contracts, helping to strengthen small businesses throughout the region. Additionally, the tribe provided millions to charities and social service organizations throughout the local area since 1992. And, it all began with Skip!
As Felix Rappaport, President & Chief Executive Officer, Foxwoods Resort Casino, stated during a press conference held prior to the gala, "Foxwoods was the first tribal casino and this pioneering effort led to a nation-wide tribal gaming movement which now includes more than 400 gaming enterprises coast-to-coast operated by over 200 tribes. And now the tribal gaming industry represents $31B in revenue plus all of the hundreds of thousands of jobs and ways that it contributes to communities all over the country."
Before introducing Governor Malloy at the press conference, Tribal Chairman Rodney Butler expressed gratitude for MPTN's partnership with the State of Connecticut and the 10,000 jobs produced by Foxwoods and MPTN. "It's a winning bet for everyone," remarked Chairman Rodney.
Governor Malloy began his speech with some humor asking the young Chairman Rodney, "How old were you 25-years ago?" Then, he expressed the importance for him personally that, "The State of Connecticut develop a peer relationship with the Tribe." "I have so much respect for the casino, the governing nation, and employees."
He said that he was most proud to forge a new relationship with both tribes allowing them to build a casino off reservation which will position us to be competitive with other casinos. "This is very much about jobs."
Representing an incredible friendship at the federal level, Chairman Rodney introduced Congressman Joe Courtney. Congressman Joe praised Rodney's leadership ability and for being voted Tribal Leader of the Year on a national level—"It's evident the quality of leadership that Rodney brings both here, in Washington D.C., and in our community." Joe stated, "It's been an incredible journey since 1992 and it's hard to believe that it's been 25 years. Rodney just confessed to me that he was a 15-year old student playing football at Montville High."
The Congressman shared some history–In 1990, the Cold War was coming to end and here, Electric Boat had 30,000 employees. By 1992, they had shed about half of those bringing the number to 16,000 and by the end of the 90s the count was down to 8,000. "It was a critical time for this region." And, there is no one who knows this better than Skip Hayward, having been a pipefitter at EB. "We should salute and thank him for his amazing leadership, vision and diligence…." "The footprint that he's created in this region is definitely worthy of this honor."
"You were here before Connecticut was a State. Whatever matter that Rodney and the governor have been working through, the fact of the matter is that you're going to be here—you're not going anywhere. You're going to be a big part of the footprint for another 25 years!"
Skip reminded the audience that this is the 350th Anniversary of Mashantucket. "We're proud of our history and proud that we were able to survive. There were good people even back then and they allowed us to survive because without them we wouldn't have survived either. Every time we failed we learned from it. We did what my grandmother wanted us to do—Hold on to the land."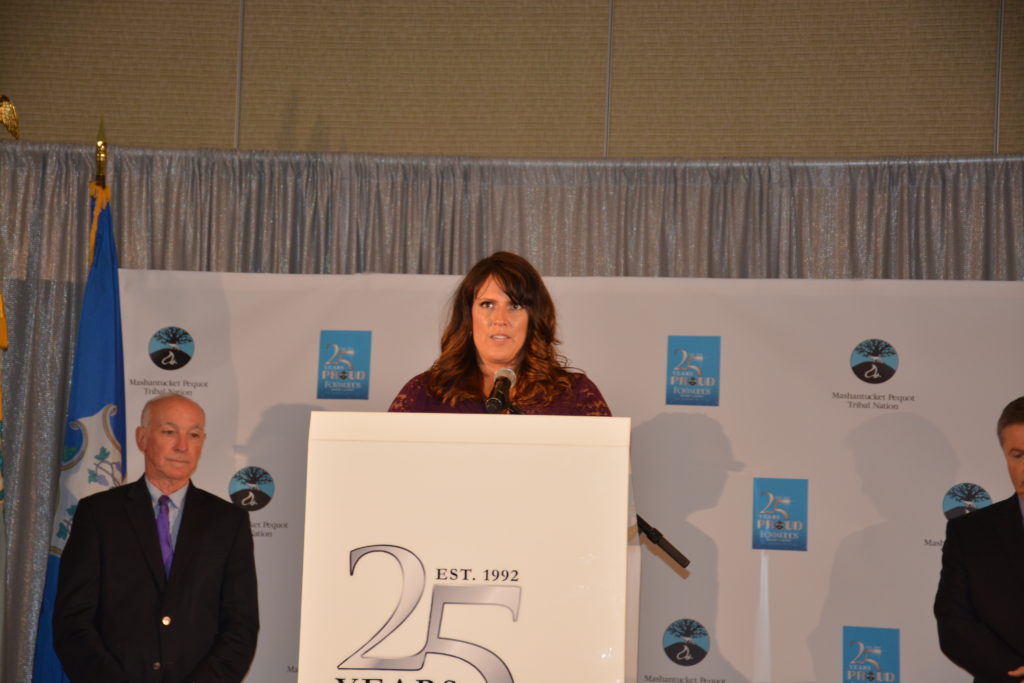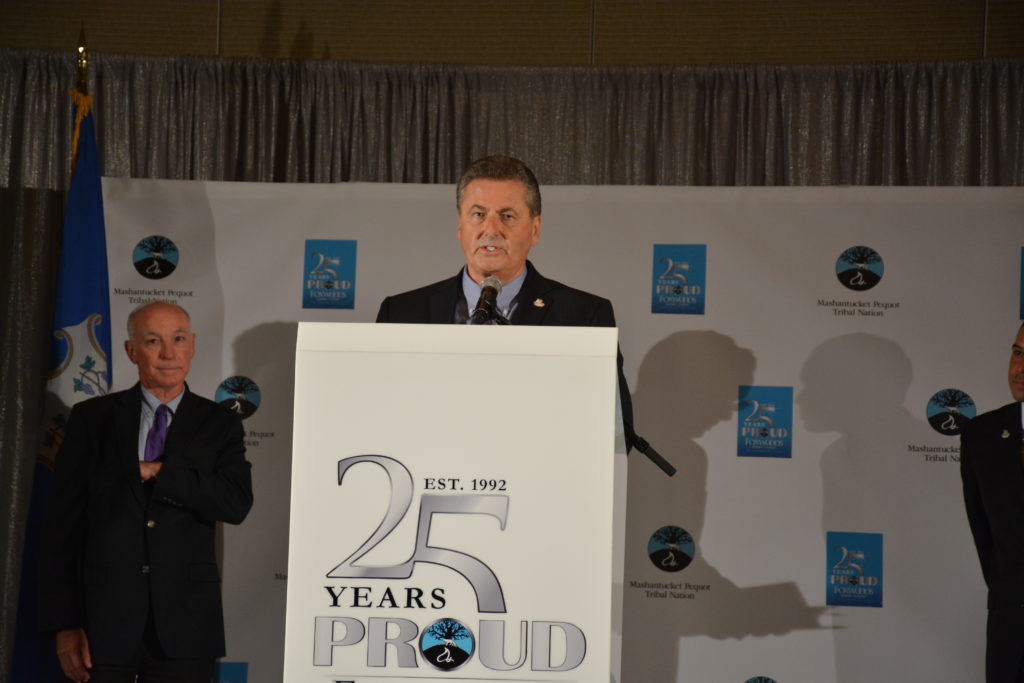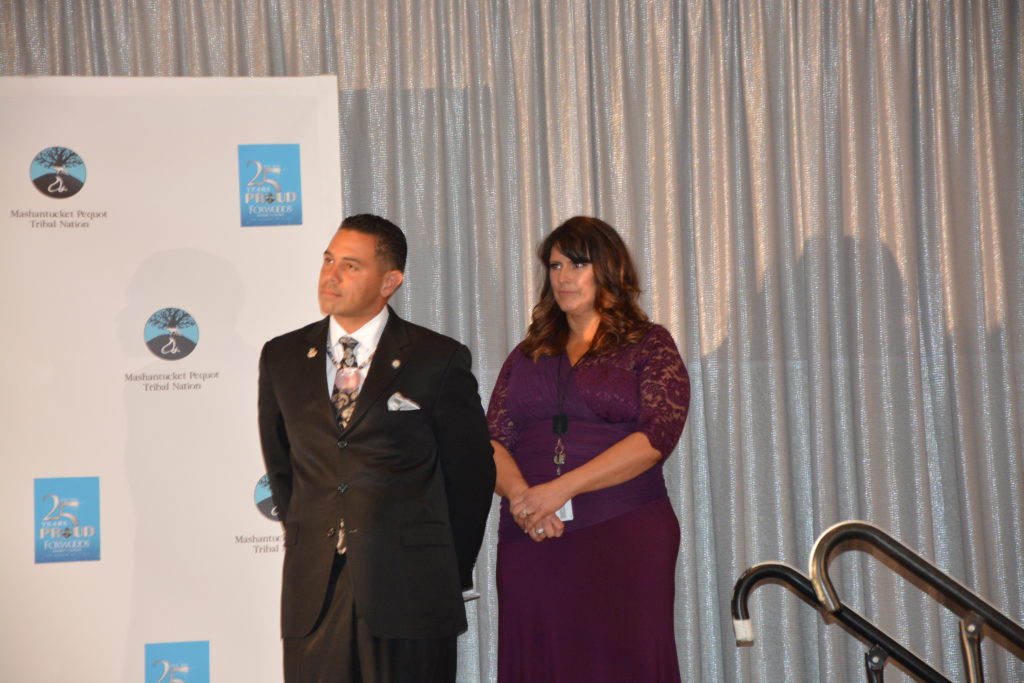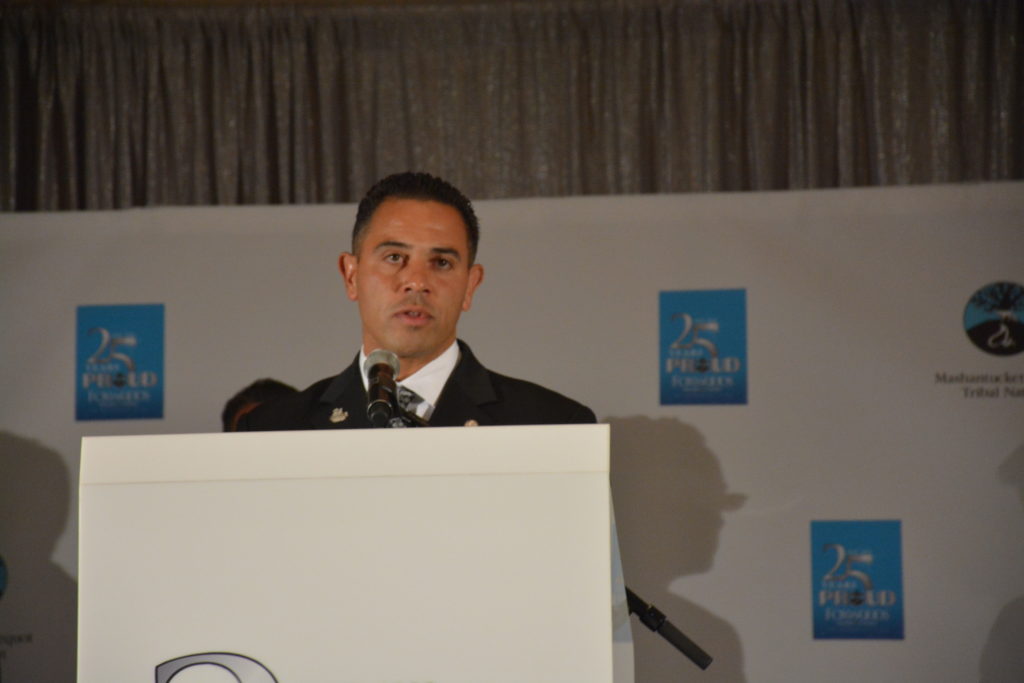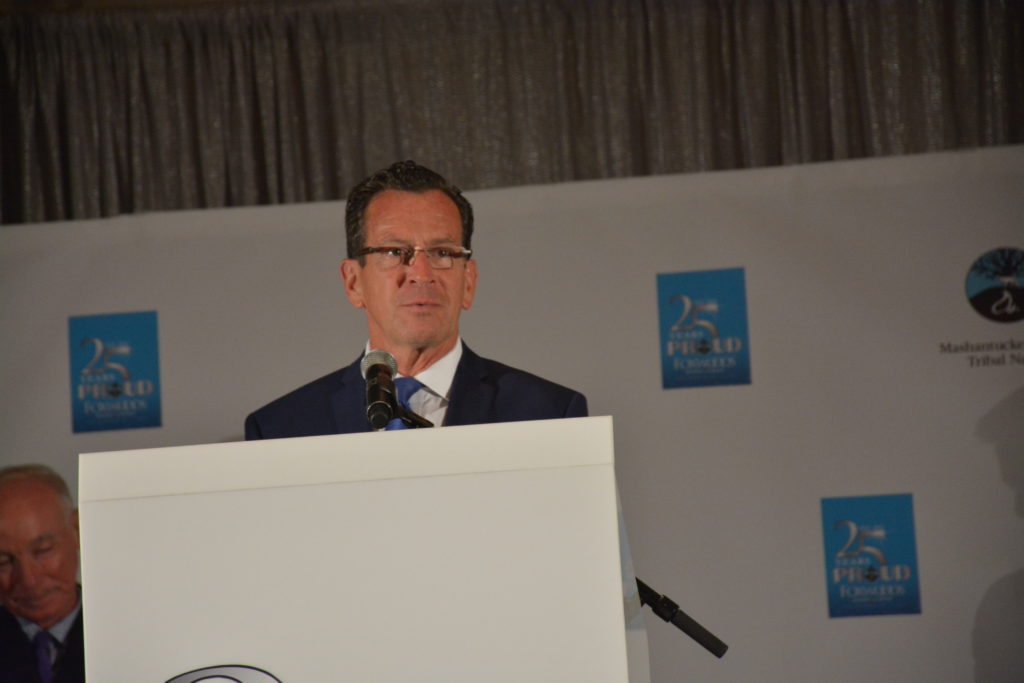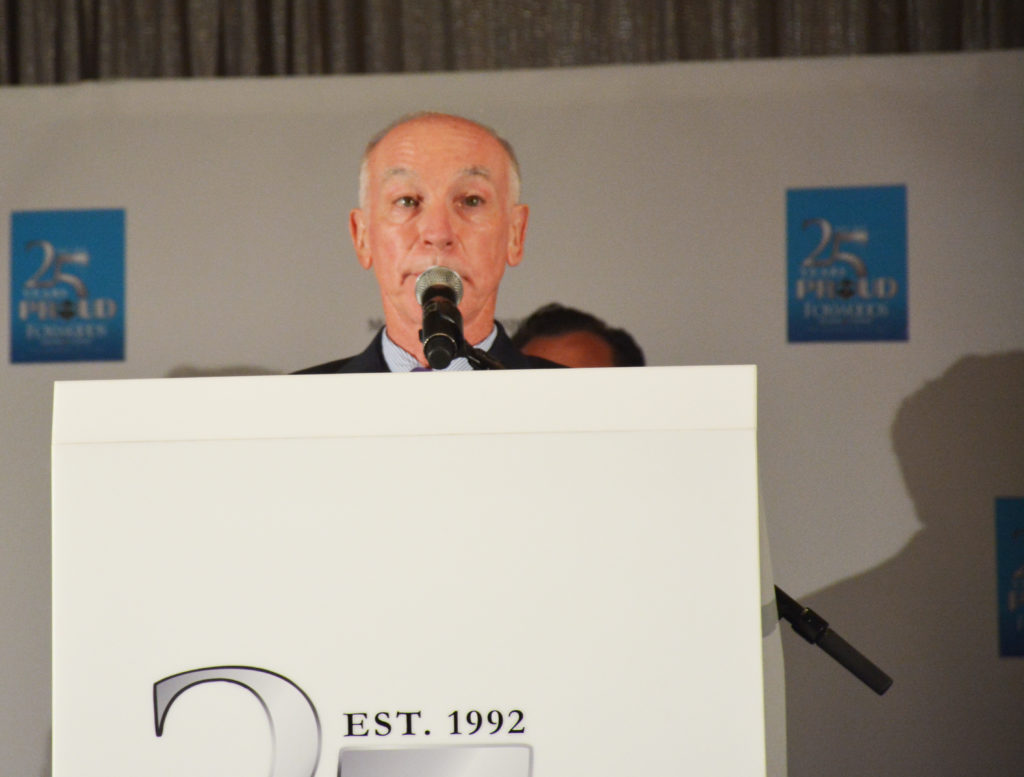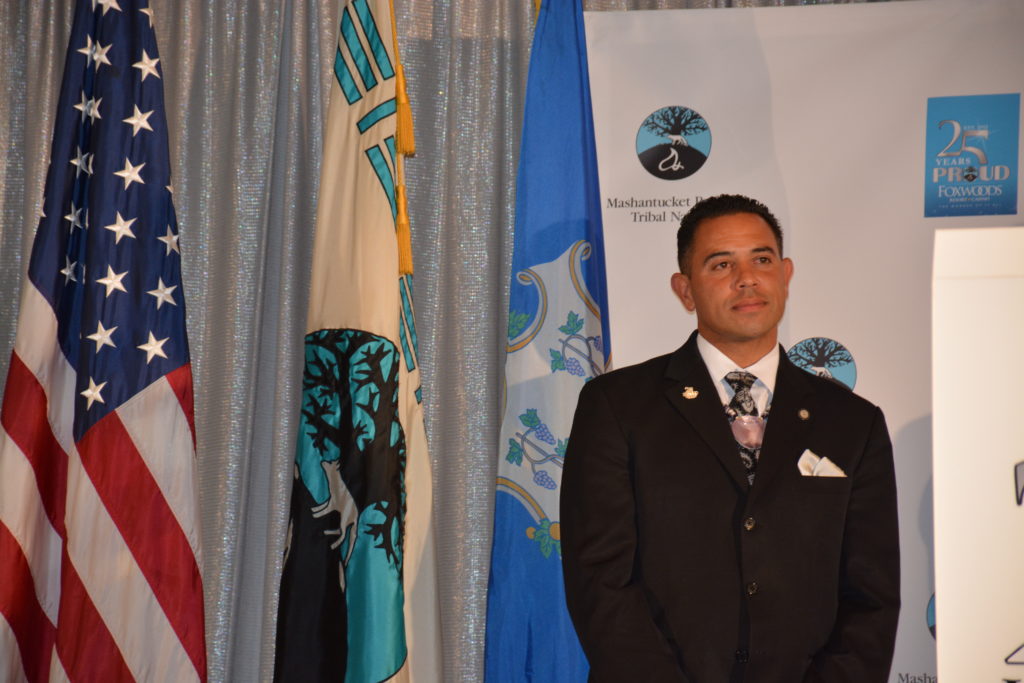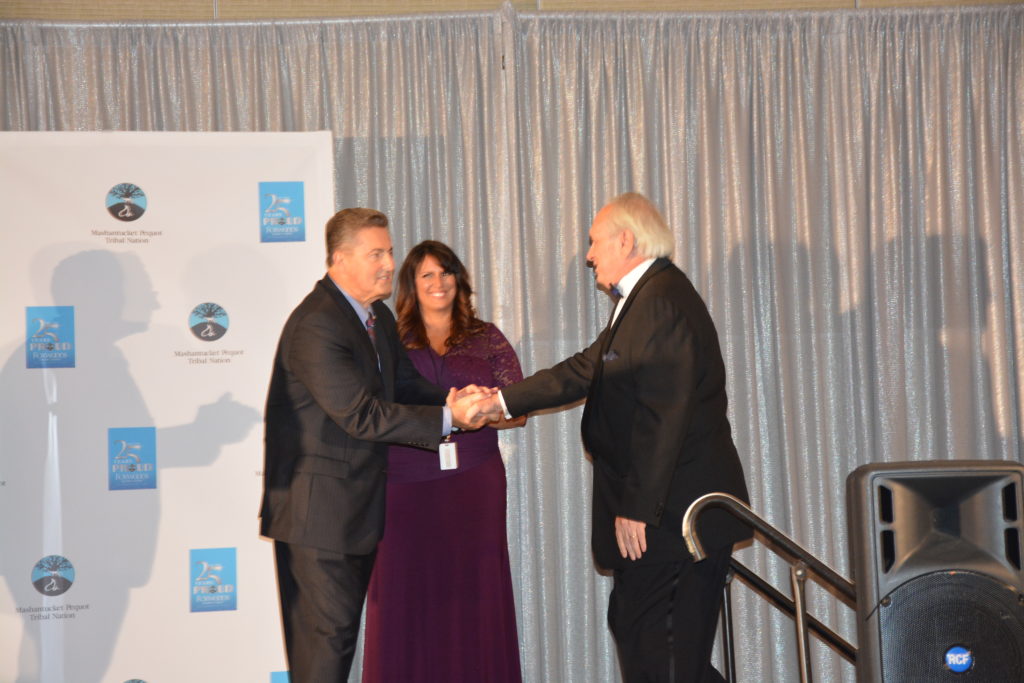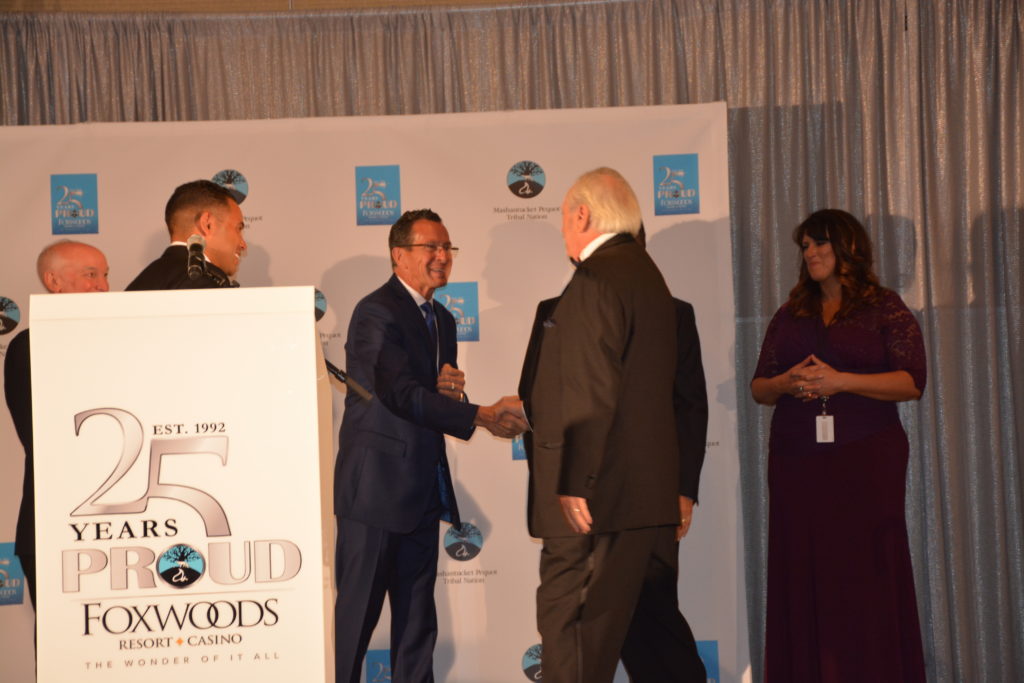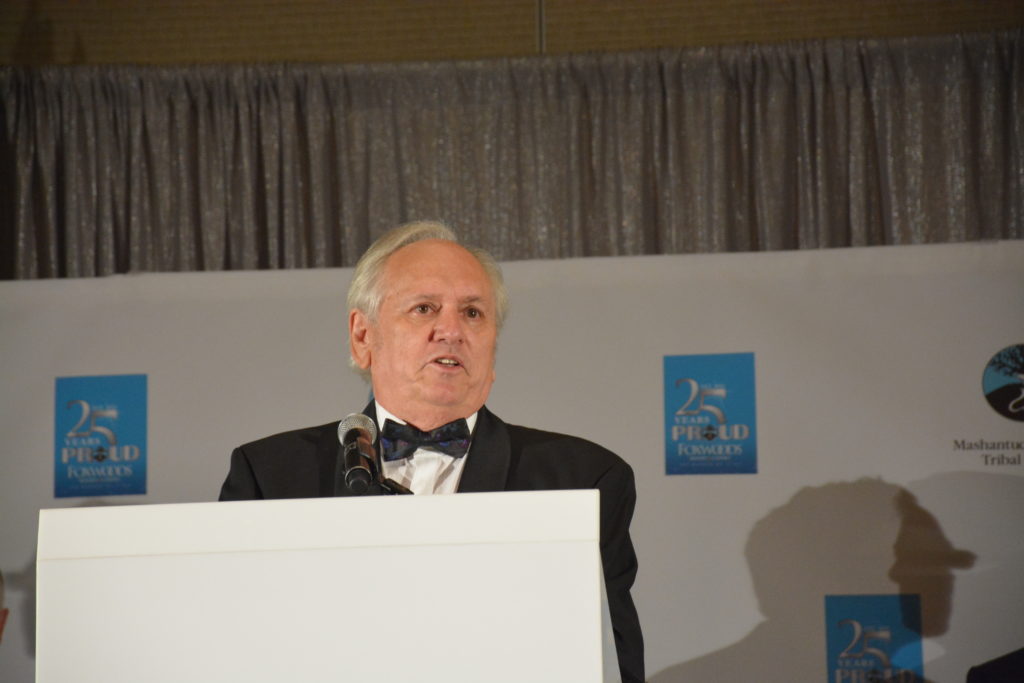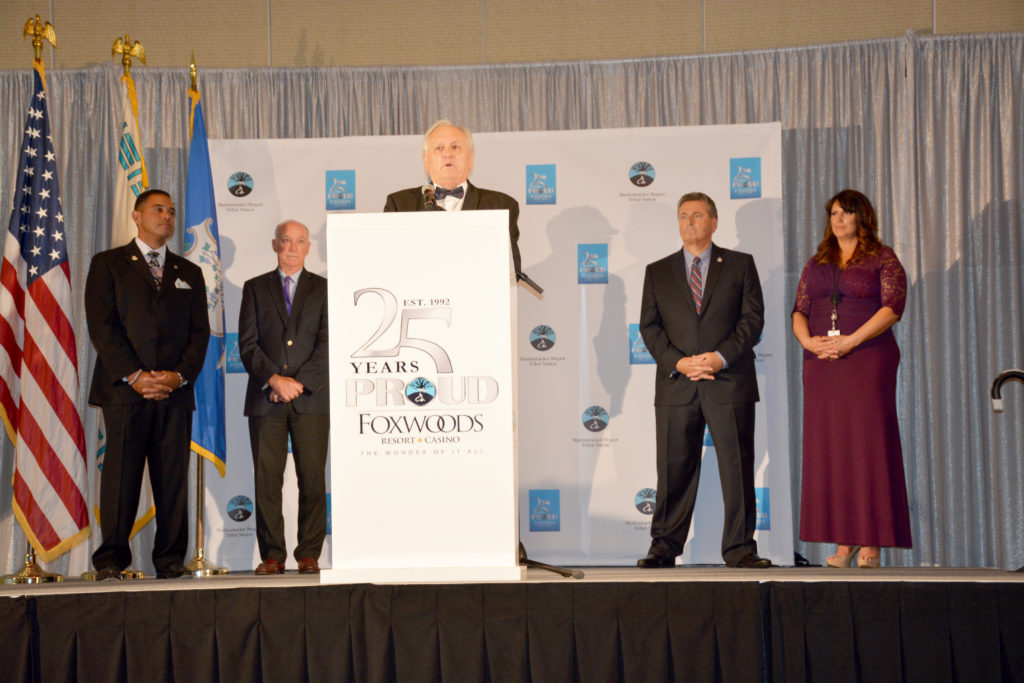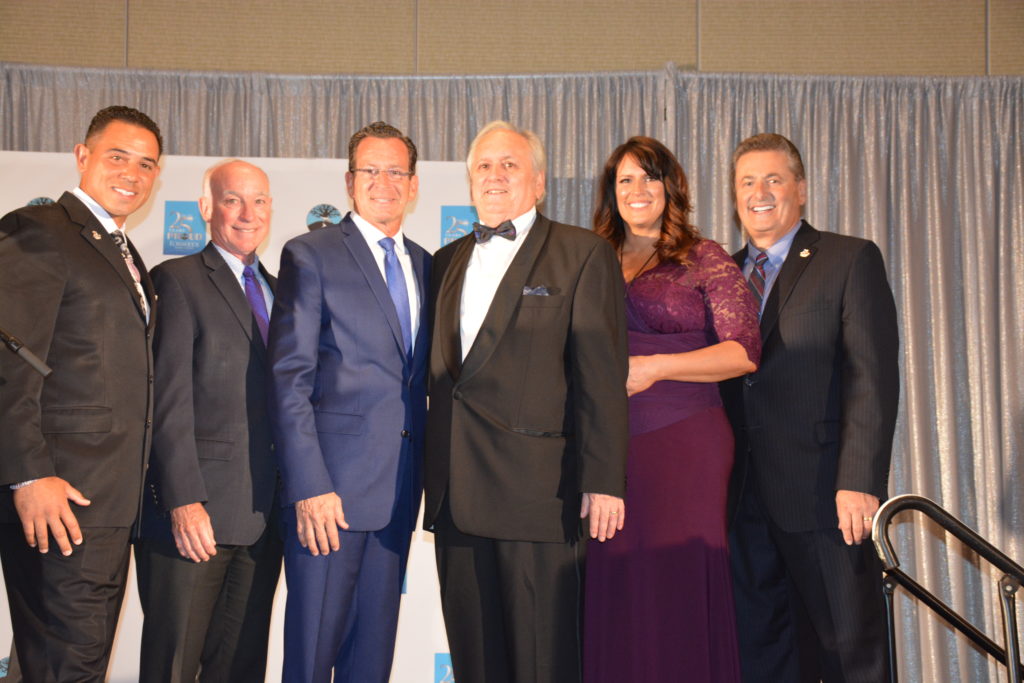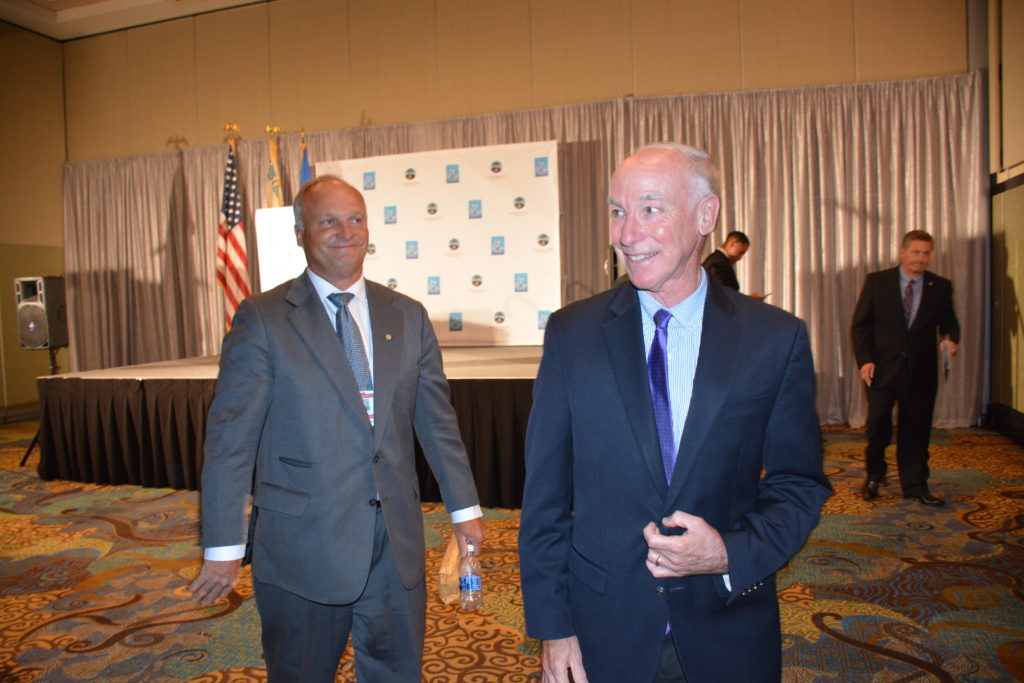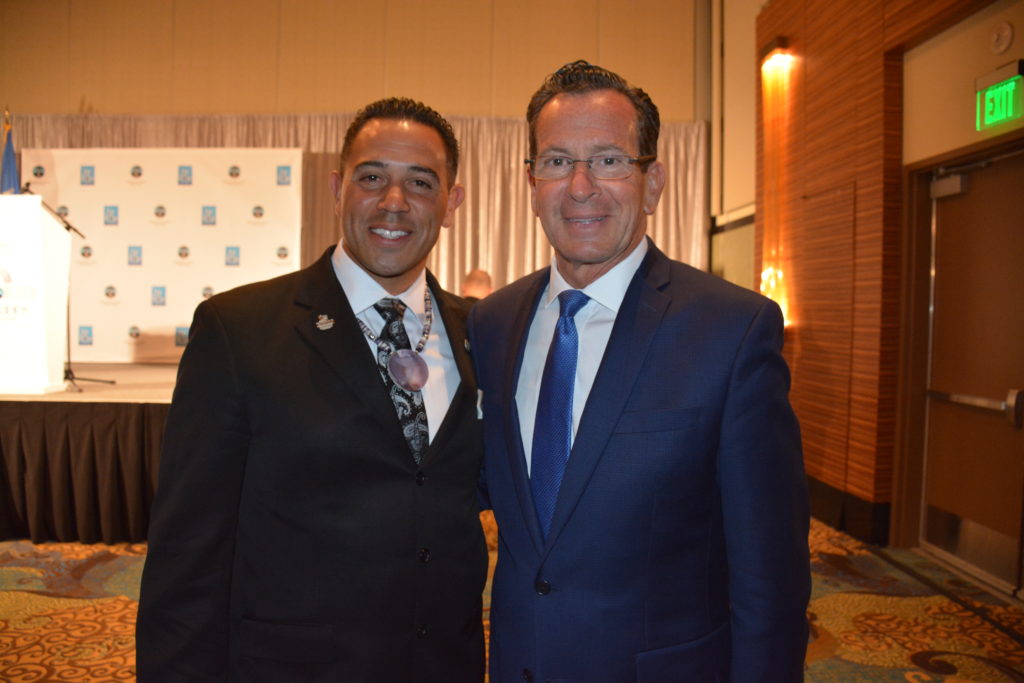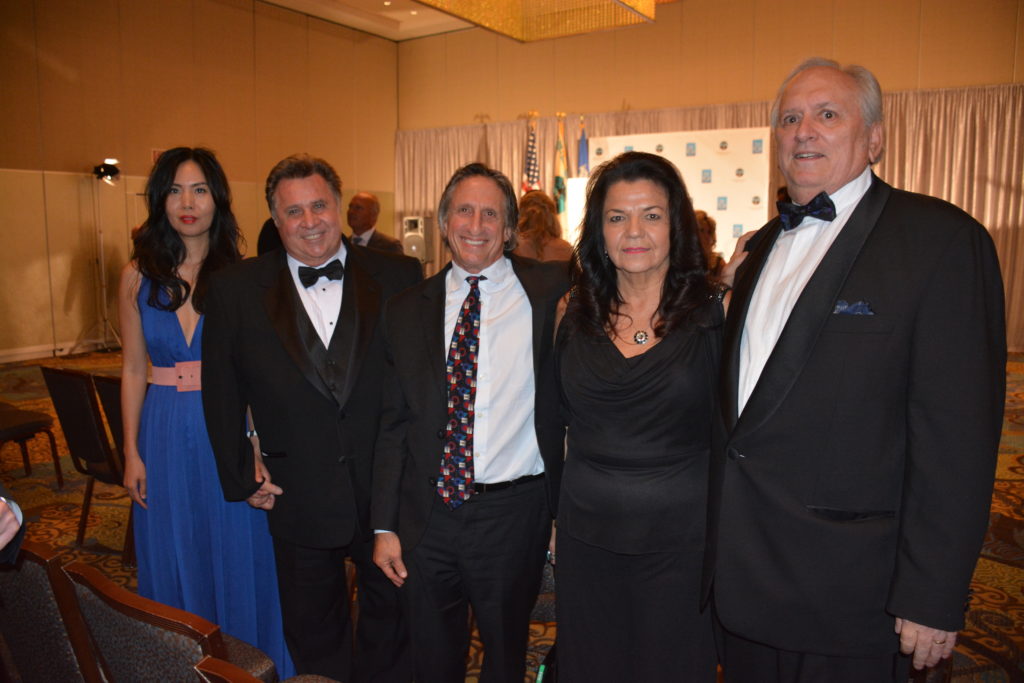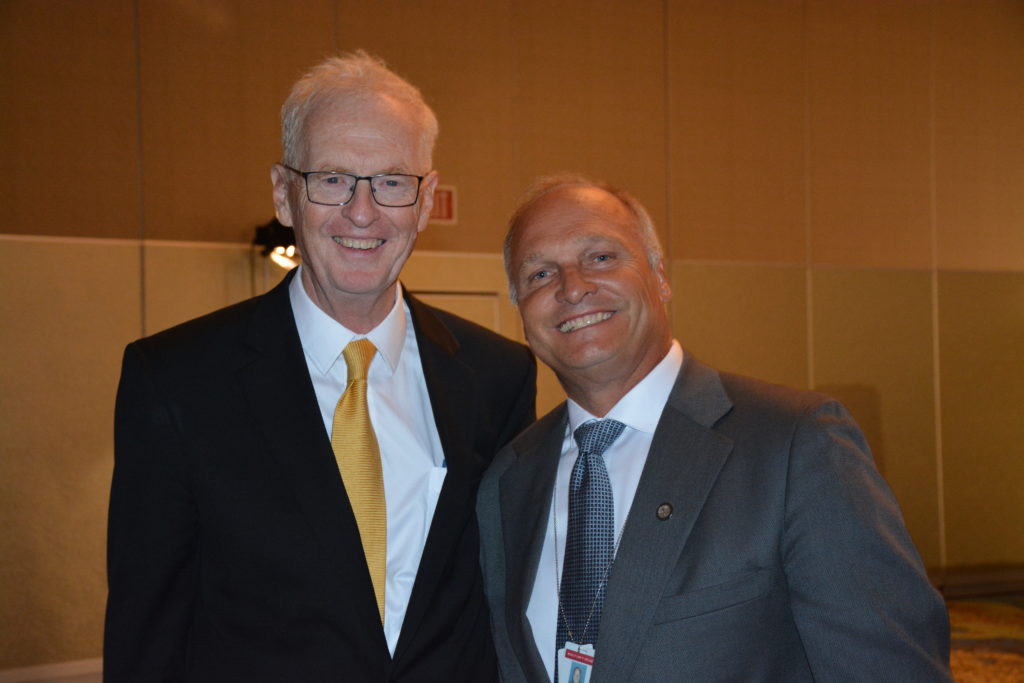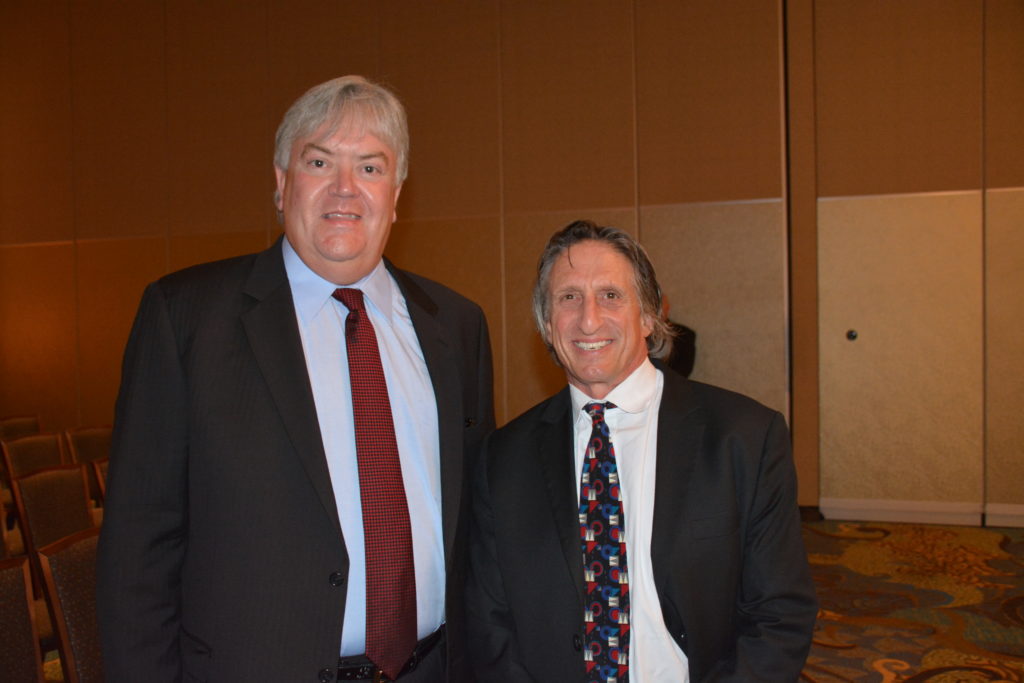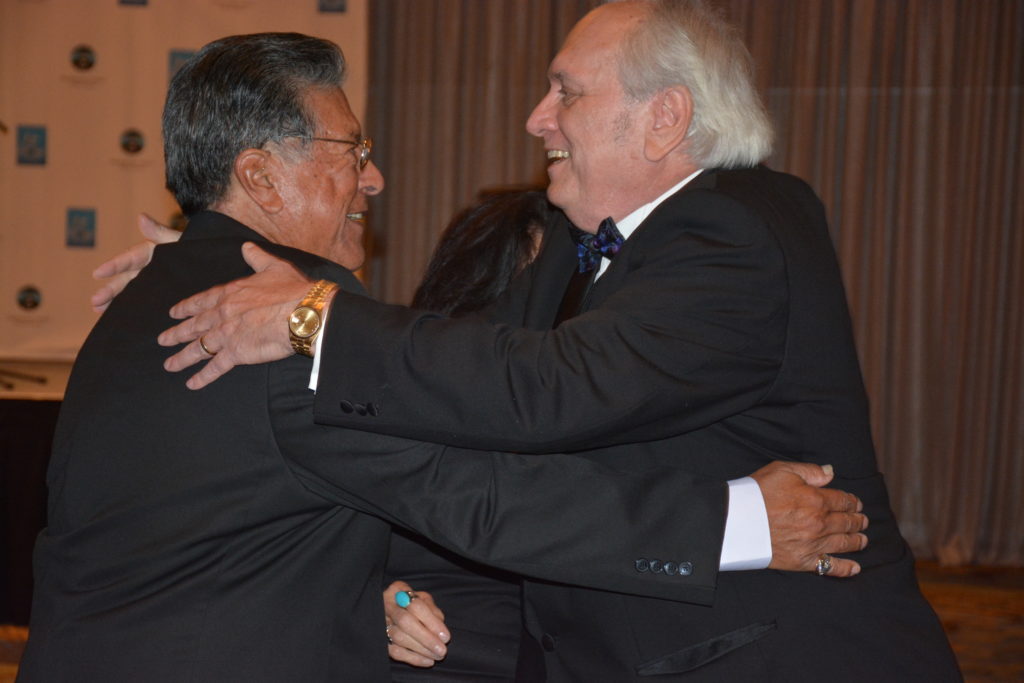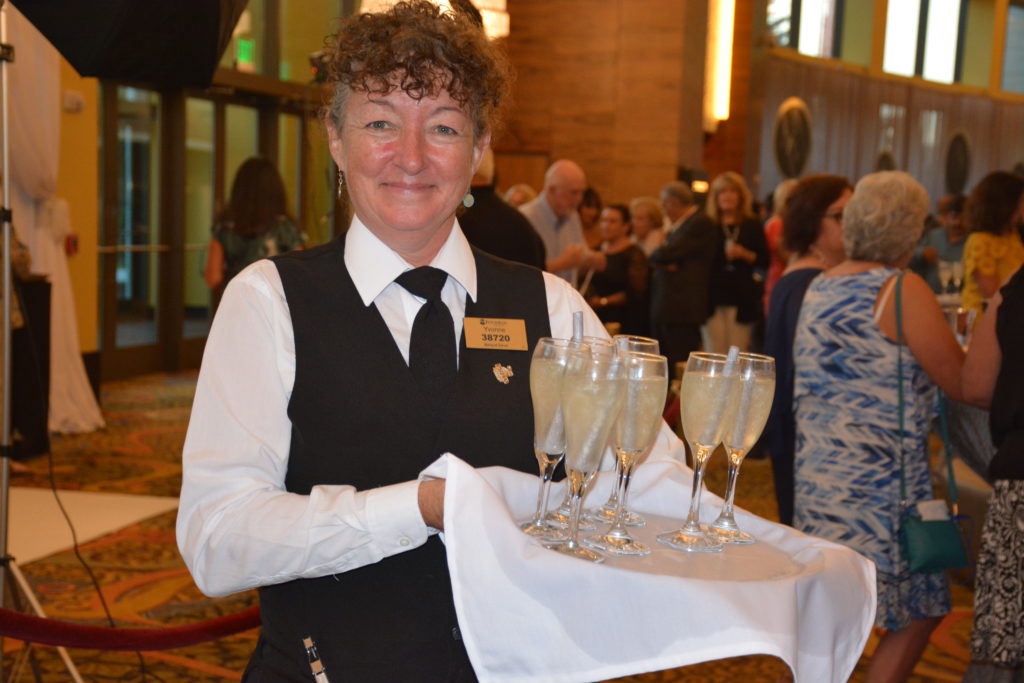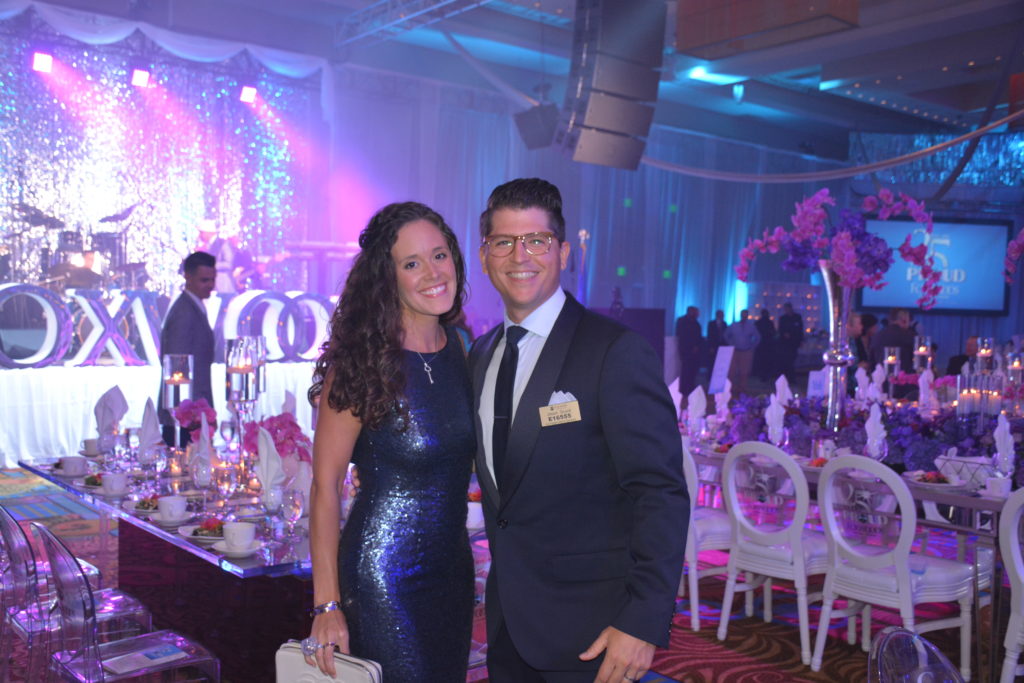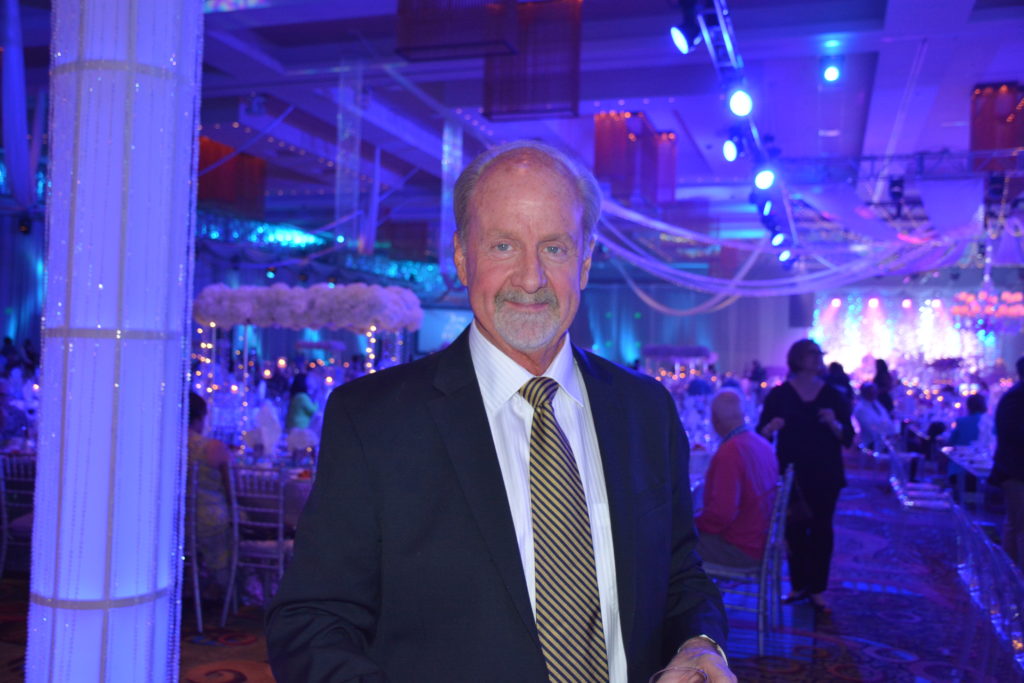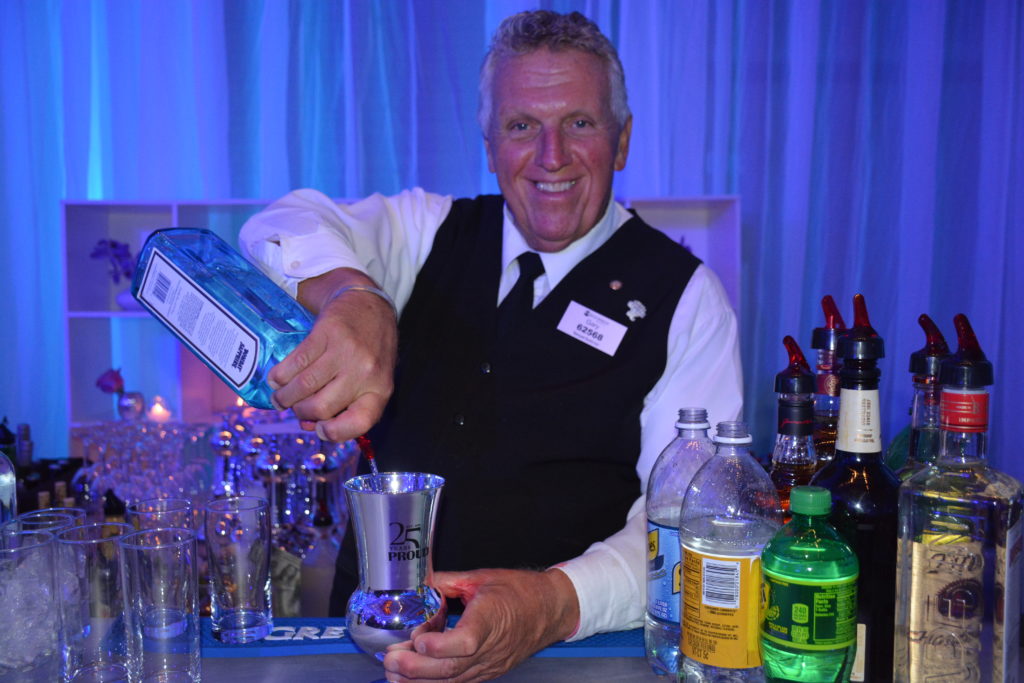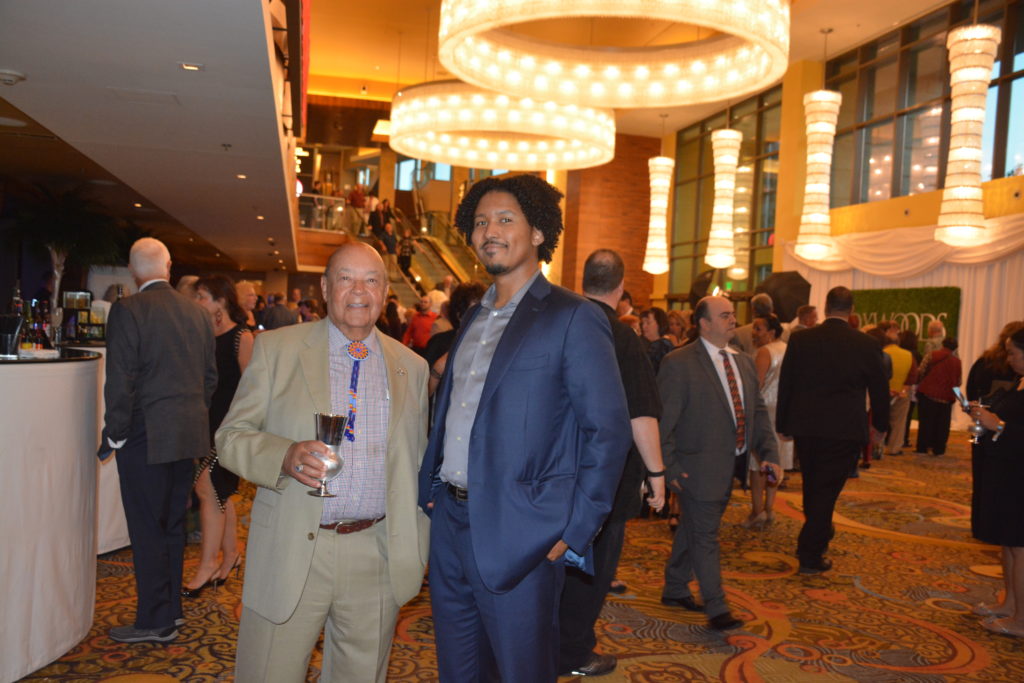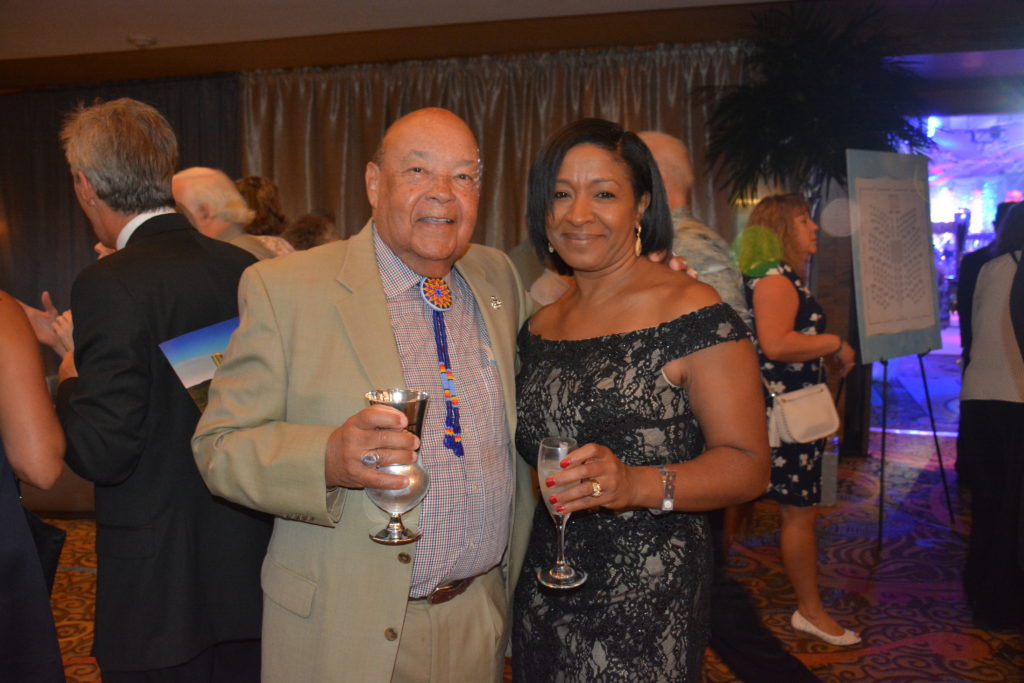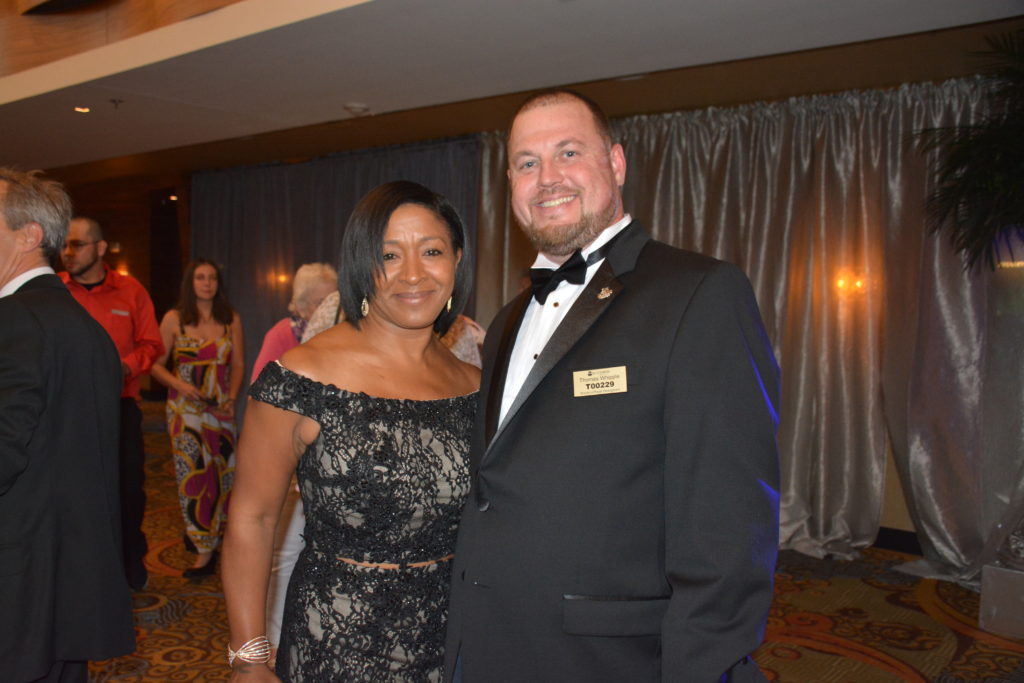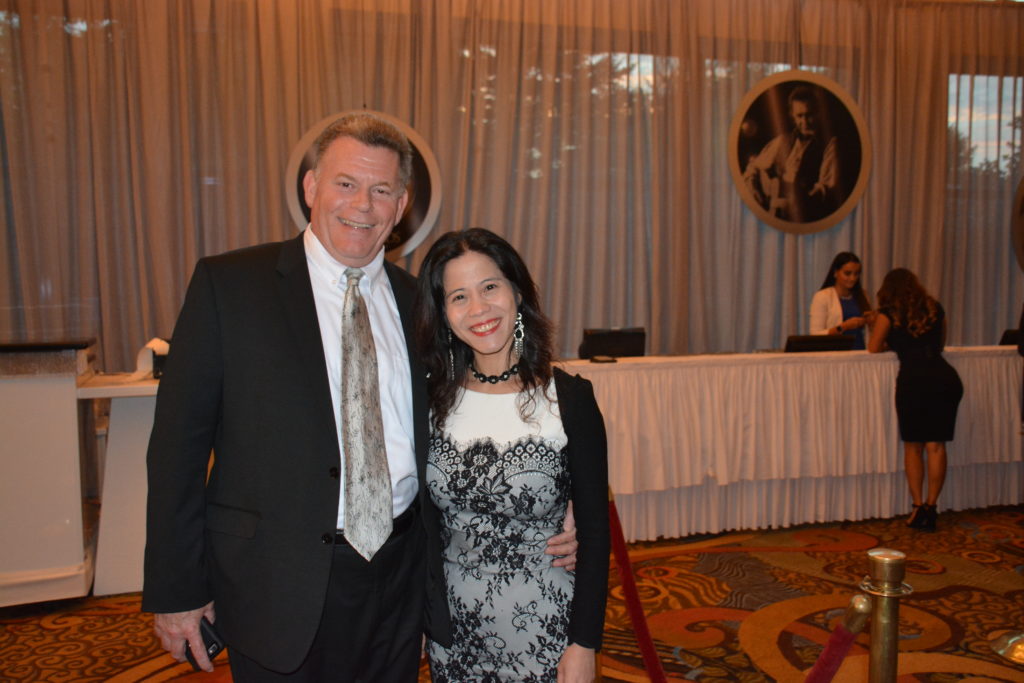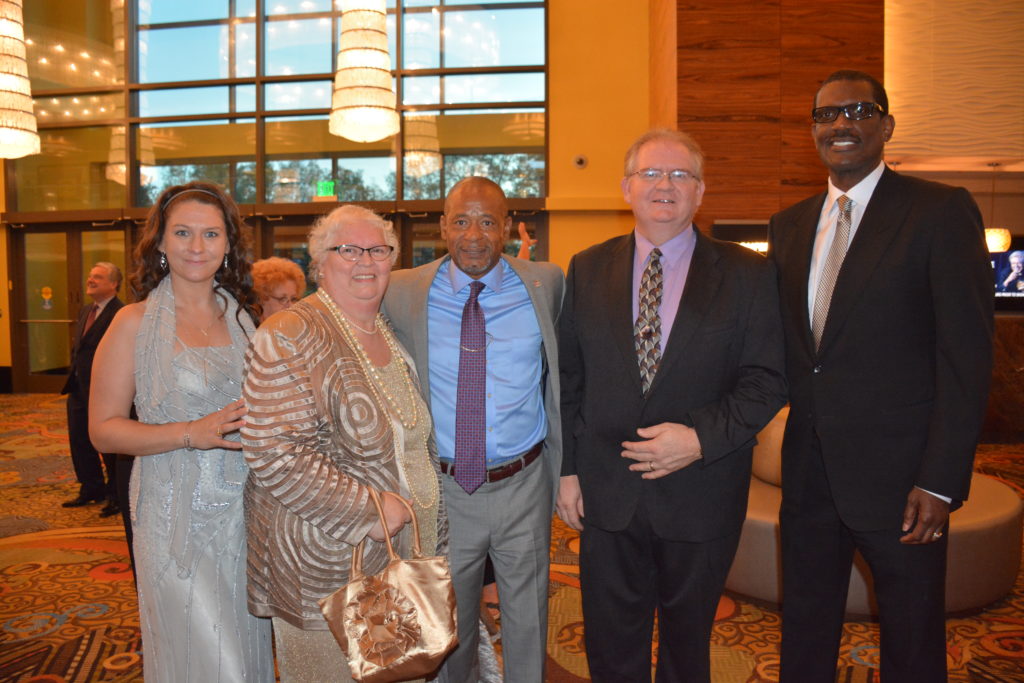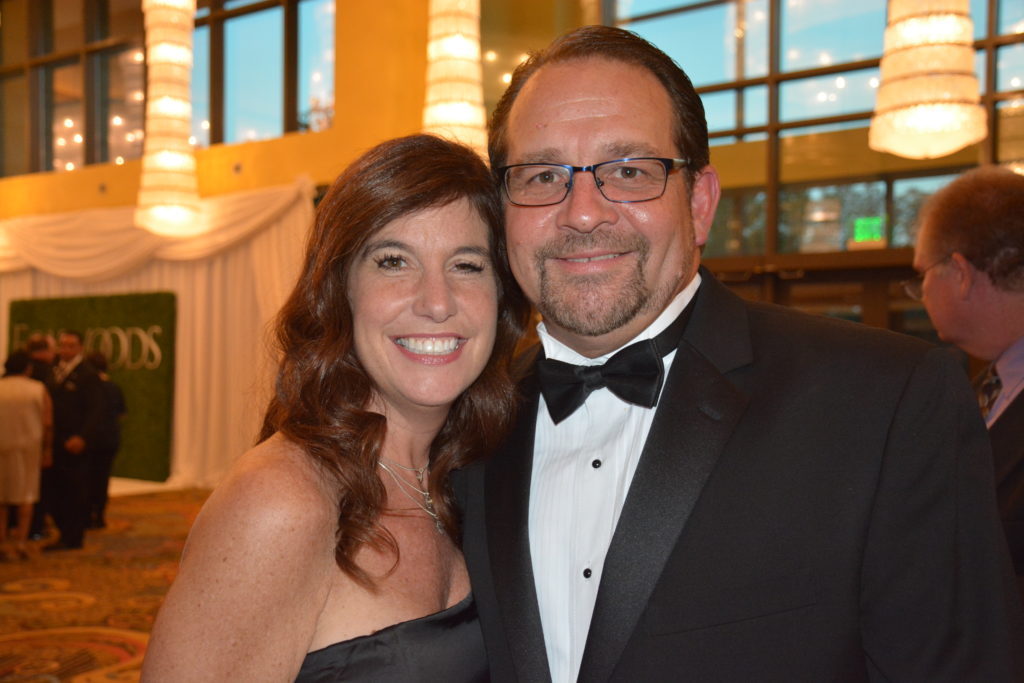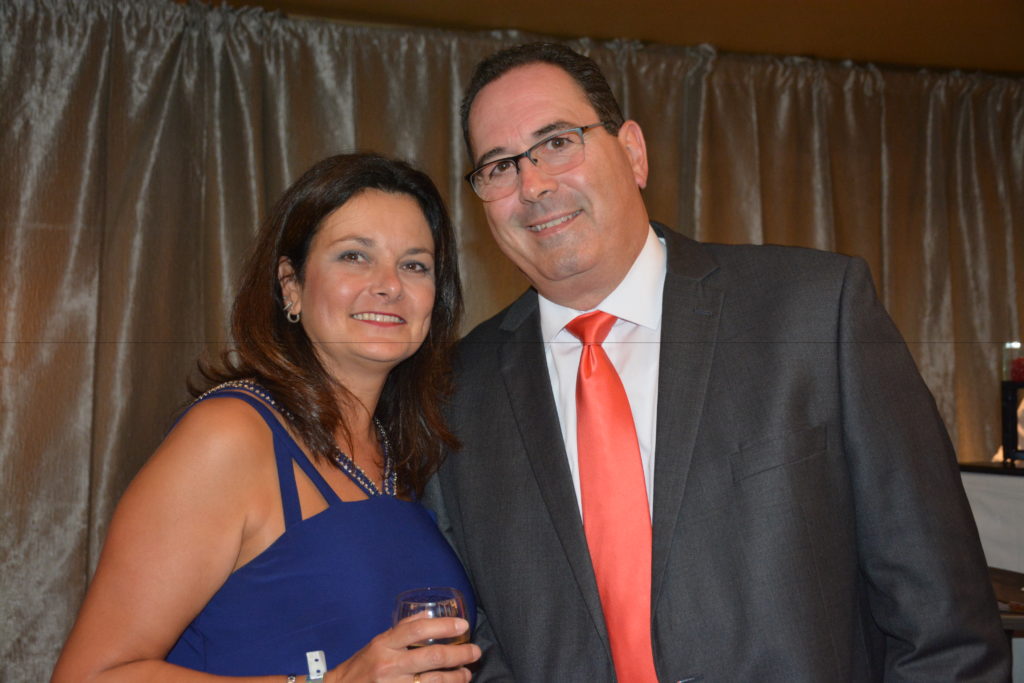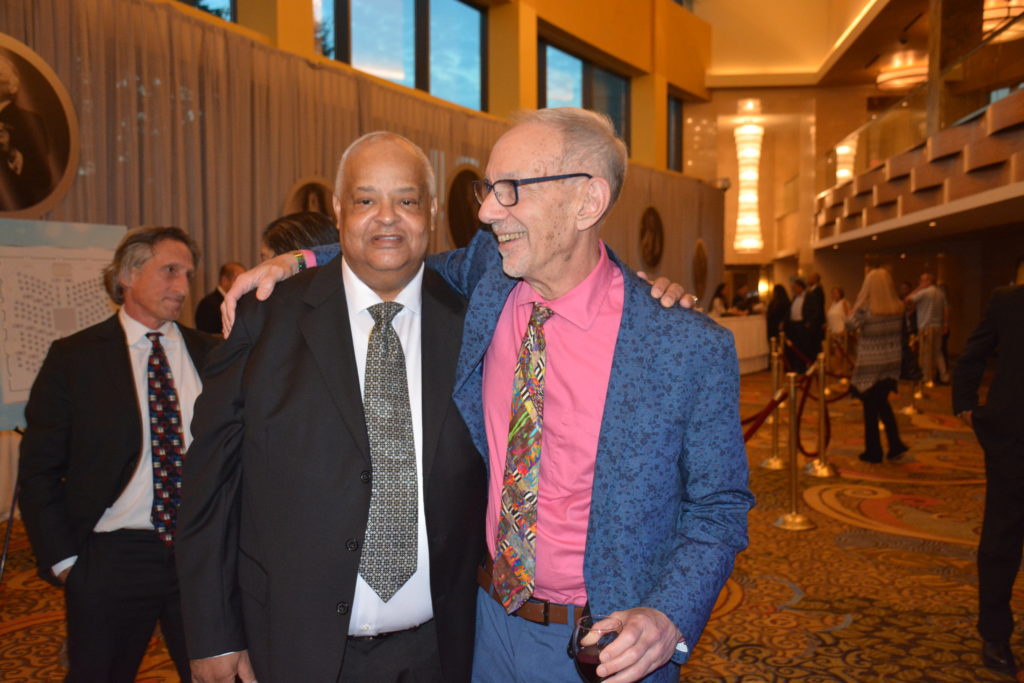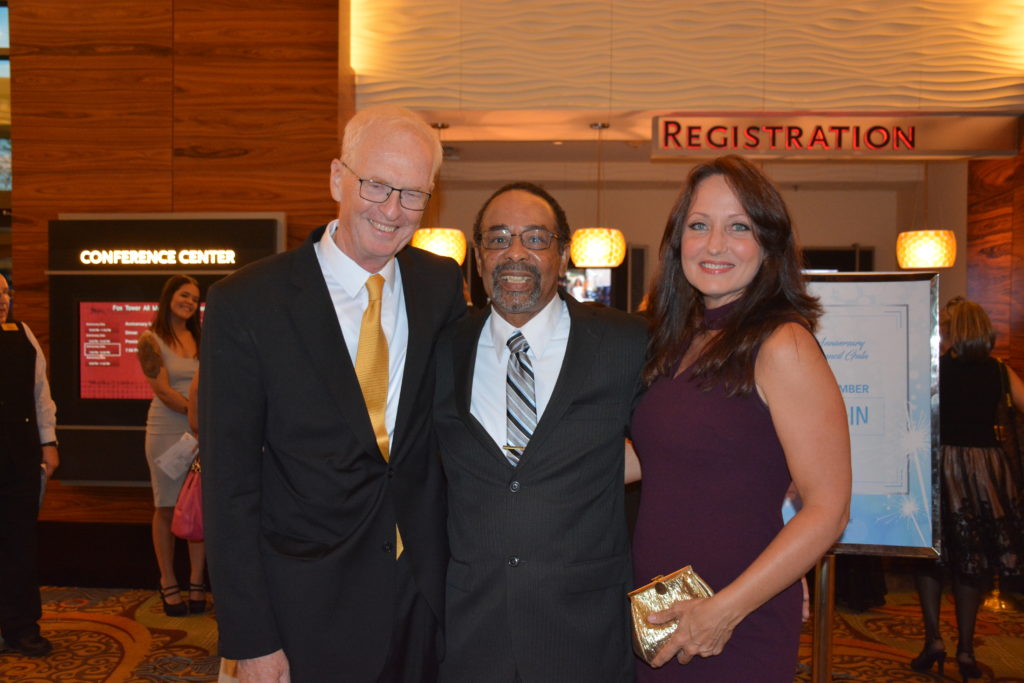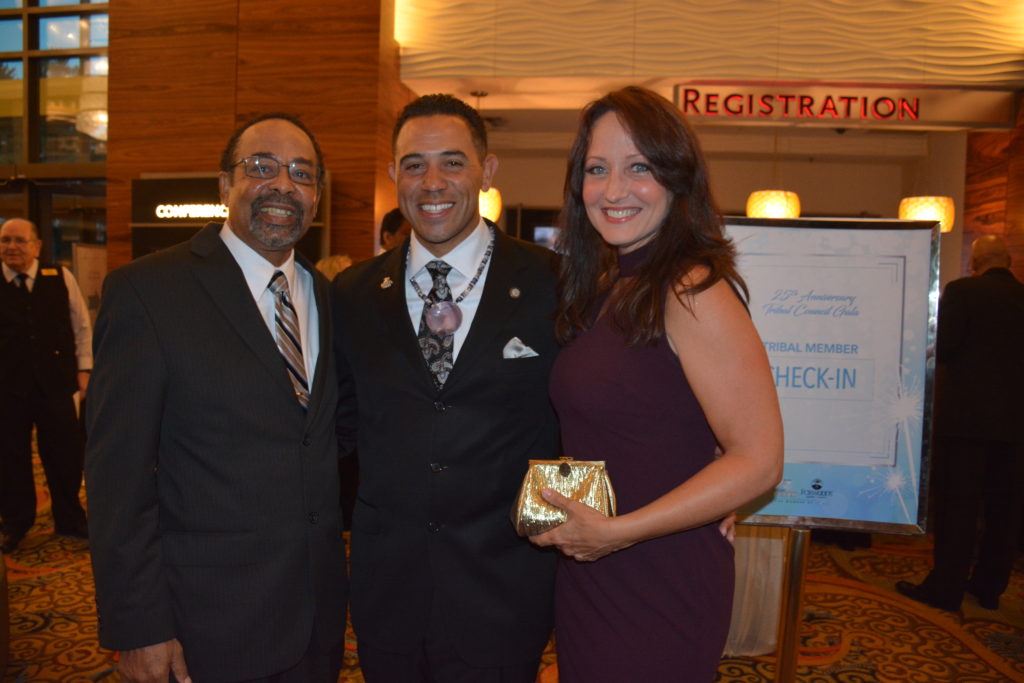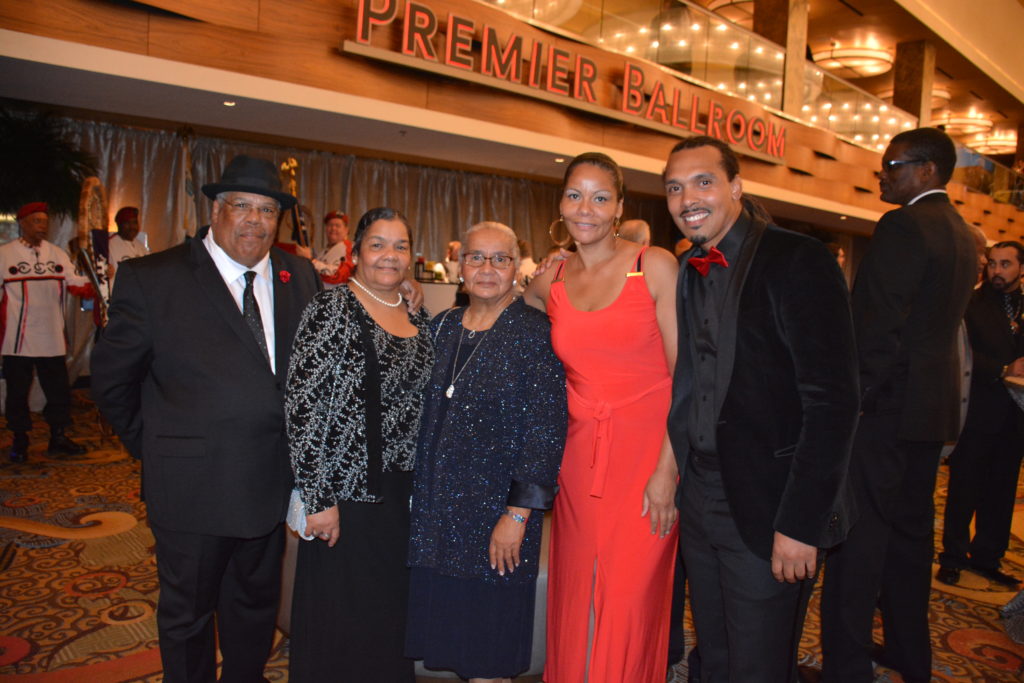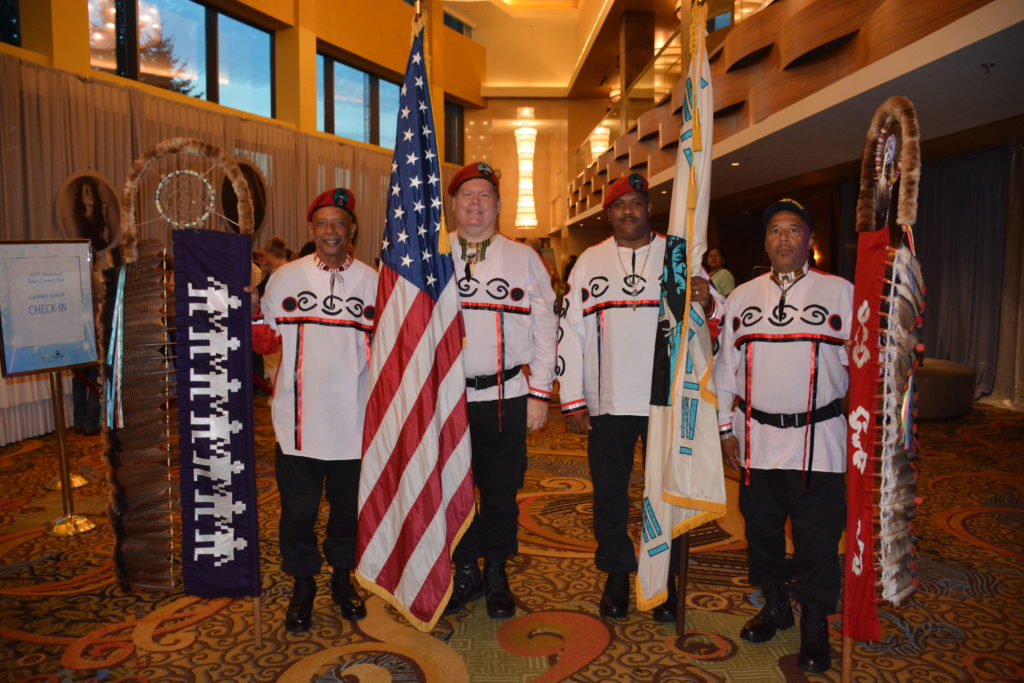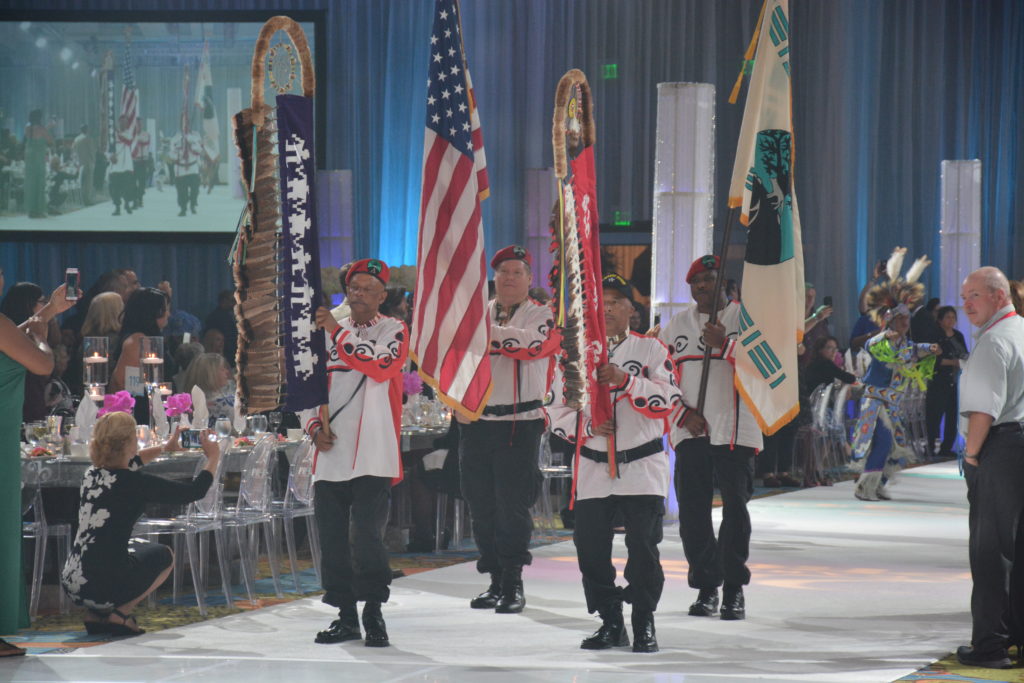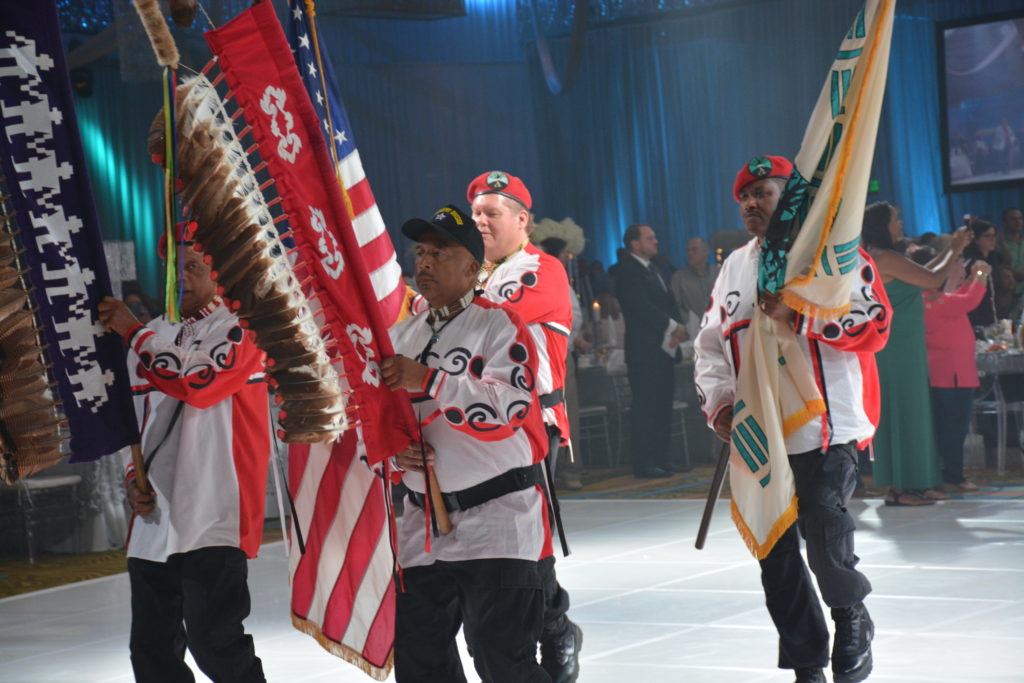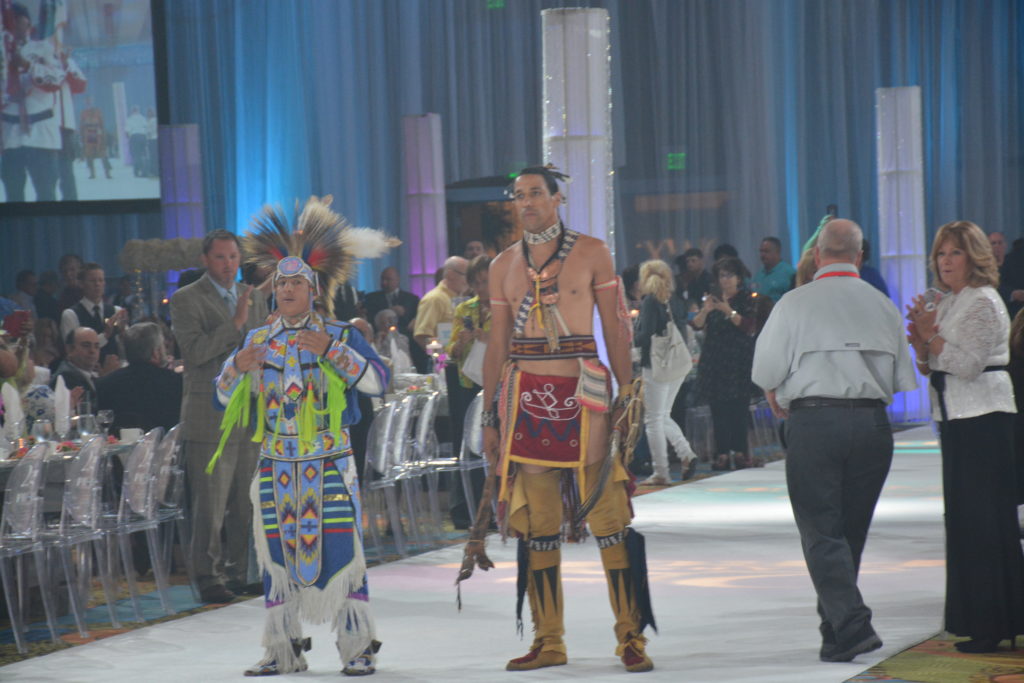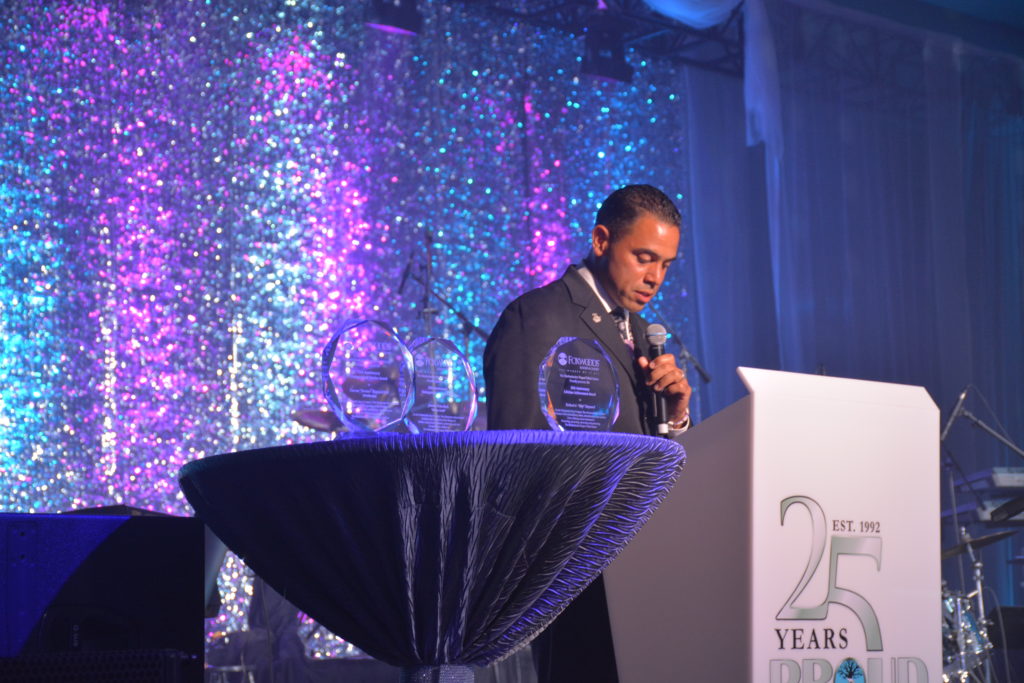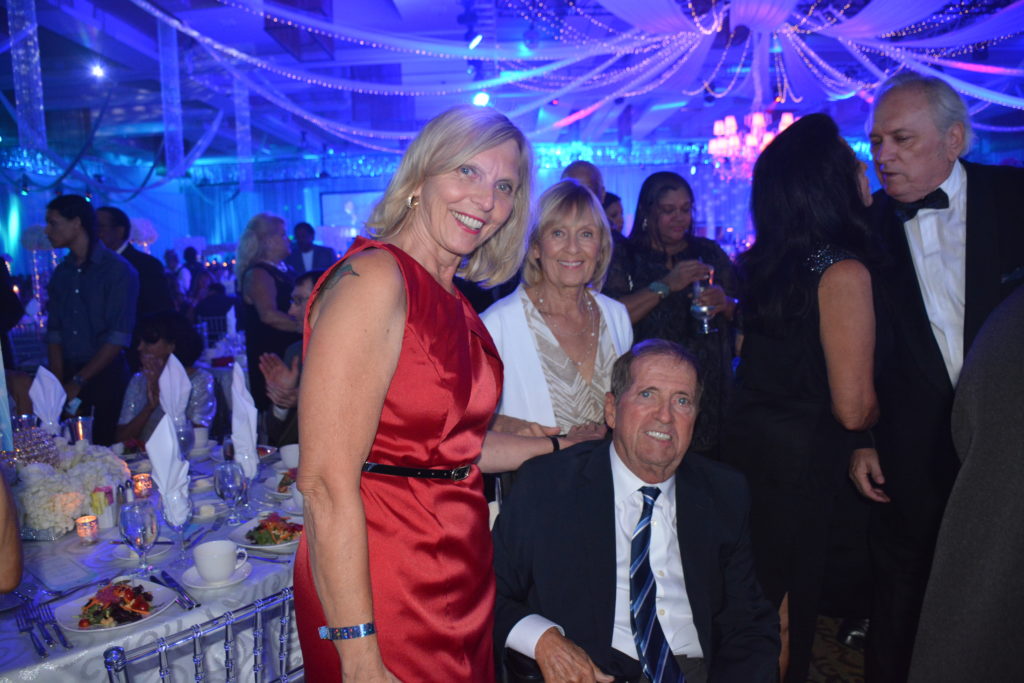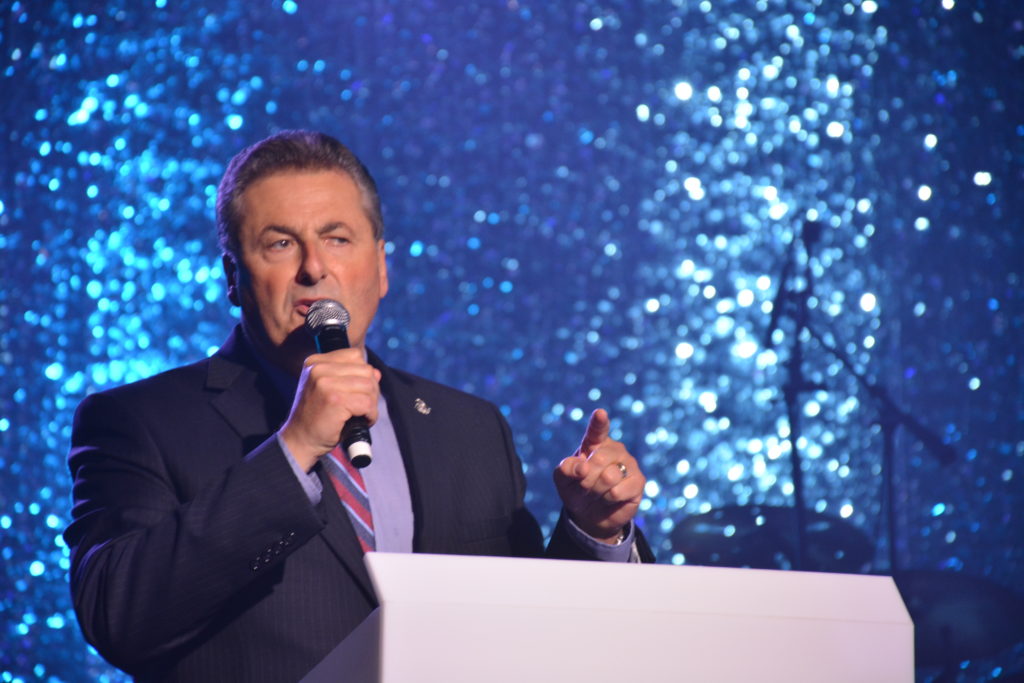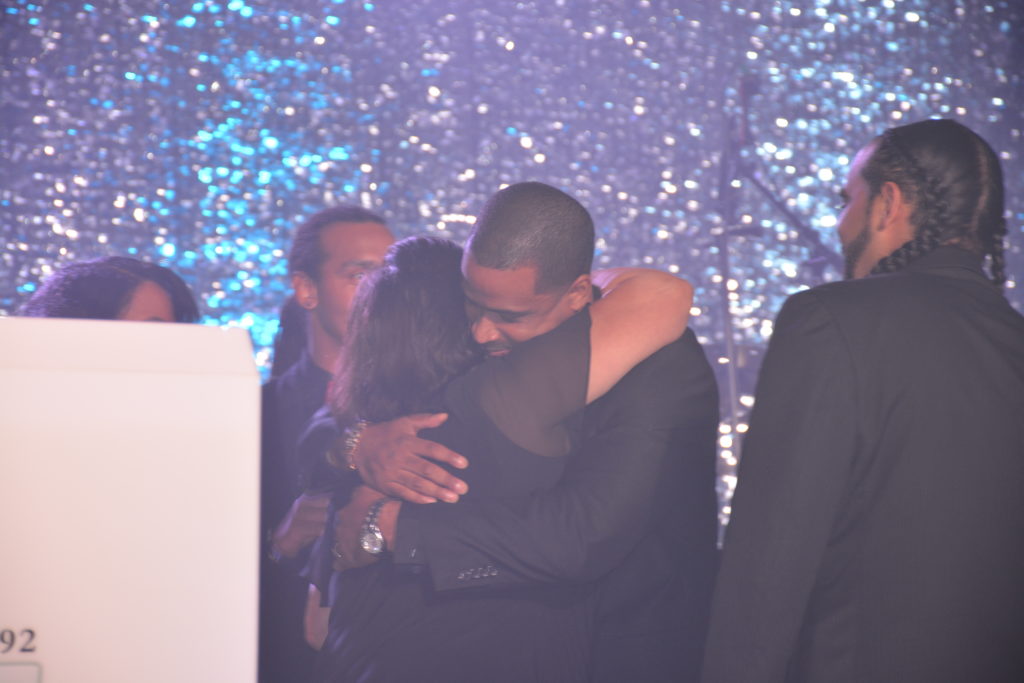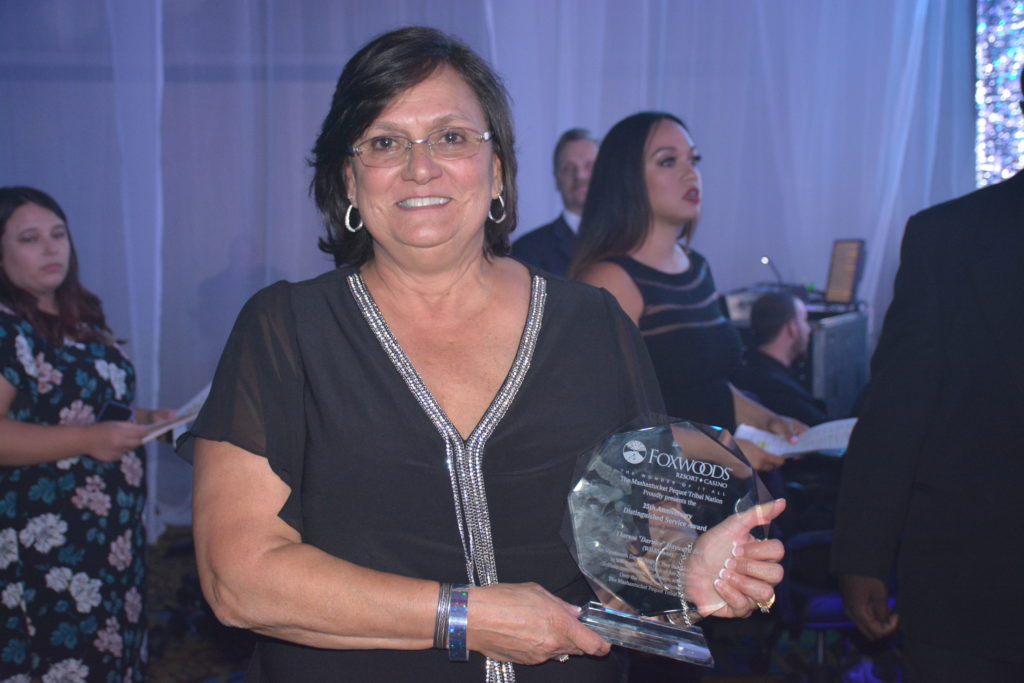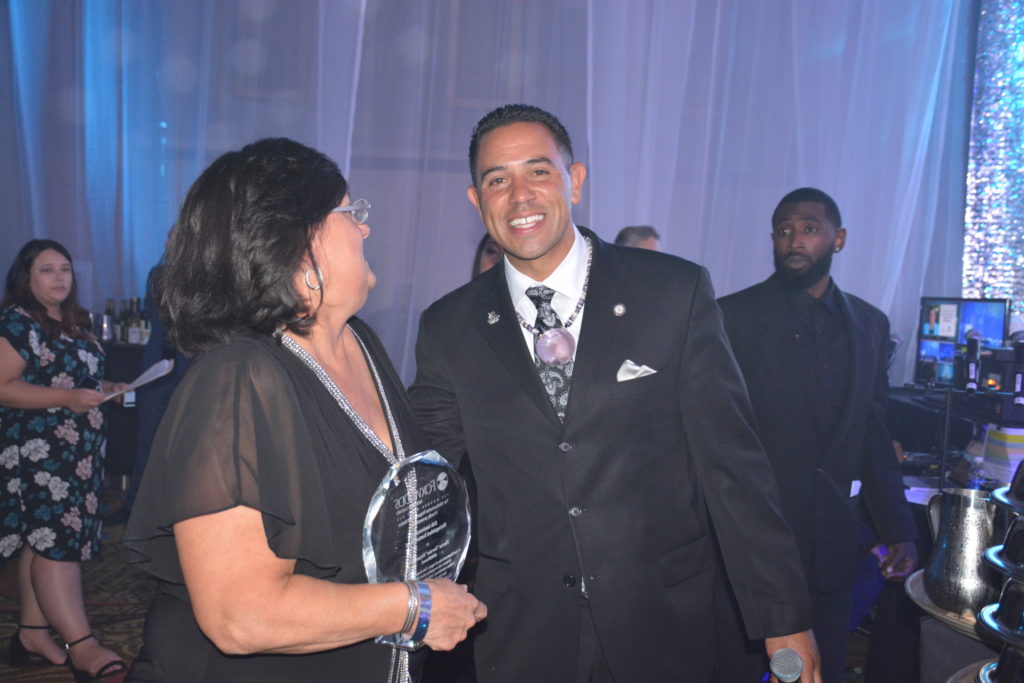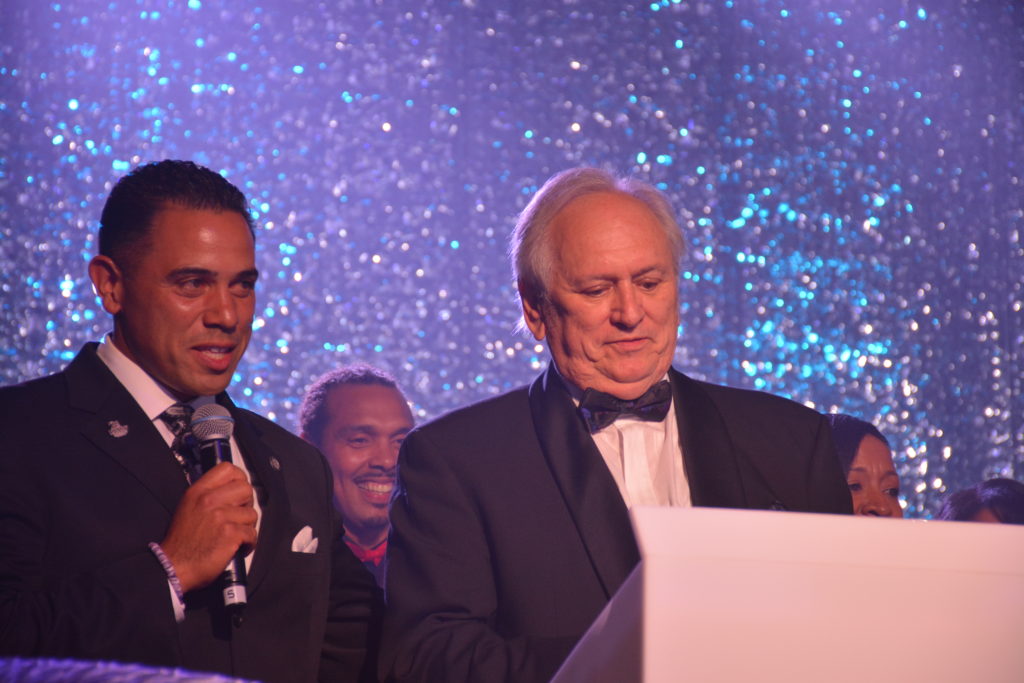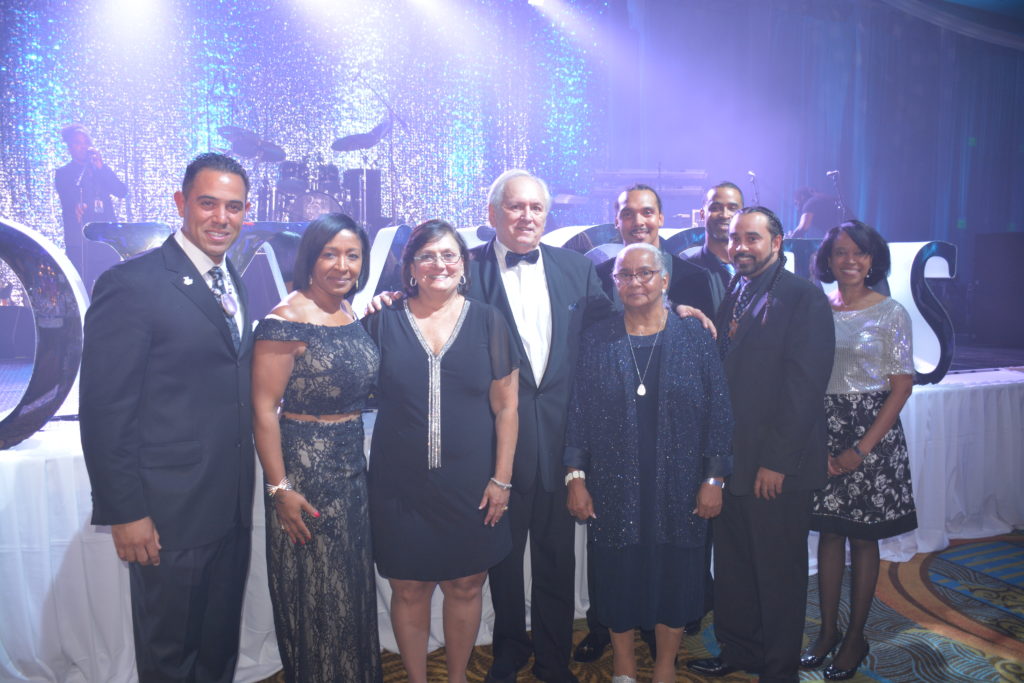 story & photos by Alexis Ann
The Ocean Community Chamber of Commerce rolled out the red carpet on June 21 for honorees, Paul Donahue, Citizen of the Year and Joe Cugini, Key Award recipient at its annual membership banquet. Venice Restaurant was the perfect venue to host this extraordinary event on a gorgeous first day of summer.
The cocktail reception featured live music by The Westminister Youth String Ensemble outside on the terrace where all enjoyed passed hors d'oeuvres to complement one's favorite libation. The evening was a #10 weather-wise. The gentle whispering of cool breezes off the near-by mighty Atlantic was a welcomed addition. Inside the lounge area, people bustled about the silent auction making sure to keep an eye on their coveted items donated by an array of local businesses.
This event, a favorite 'sell-out' for the Chamber every year, acts as an official preamble to summer especially for our 'snow birds' just returning from sunnier states. For our seasonal business owners, it's a time to renew acquaintances and discuss predictions for an upcoming bountiful summer season. You can feel the excitement in the air and the roar of laughter increases as the bartenders become more and more popular!
Soon, the crowd of 230 is guided upstairs via stairway and elevator to the Renaissance Ballroom. The round tables of ten are linened and decorated with fresh flower centerpieces. Lisa's team, Ocean Chamber staff Erica Agnello, Administrative Assistant, Lou Martocchio, Events Manager, Maria DiMaggio, Membership & Operations Director, and Angie Smith, Board Member and Great Escape Auction chair person, have this event organized to the max. Our choices were chicken or salmon as indicated on our name cards.
Everyone is seated and Bruce Morrow, general manager of Valenti Subaru and Chairman of the Chamber's Board, welcomes all and introduces Eddie Morrone, emcee. After the introduction of current board members and recognition of those completing service, installation of new board members, including Kerin DaCruz, L&M Hospital, Jim Traskos, Traskos Manufacturing Co., Alexis Ann, The Resident, and John Allen, Ivory Ella; and new executive board members, including Bruce, as chairman, Beth Frenette, Washington Trust Co., First Vice Chair, Jen Brinton, Grew Sail Brewing of Rhode Island, Grey Sail Tap Room, Second Vice Chair, Mike Benevides, Benevides & Turano, LLC, CPA's & Business Advisors, Treasurer, Maria Allen, Bella Vita, Secretary, and Angela Thoman, Paddy Beach Club, Past Chairwoman, are called to the front of the room for a photo op.
The effervescent Lisa Konicki, Chamber president for the past 20 years, officiates the year-end report and the pro auctioneer extraordinaire Dan Stanavage begins and we all remember another reason why we're here—to raise monies for this worthwhile organization that acts as a catalyst for increased value to the Westerly-Pawcatuck and two-state region.
Key Award recipient Joe Cugini is announced. This award was established to honor those whose selfless actions have helped the Ocean Community Chamber of Commerce achieve its mission. If you know Joe Cugini, you know that he is dedicated to serving the Chamber and this community. He served as president of the Westerly Community Credit Union for 40 years and began his chamber affiliation working on the Town of Westerly Tercentenary. Joe always takes great pride in supporting community programs. Behind the scenes he continues to be a source of advice and guidance to the Chamber and those who ask. He will serve on a committee with the Chamber to help plan events for the Town of Westerly's 350th Anniversary in 2019.
Citizen of the Year 2017 is Paul Donahue, owner of Westerly Paints. If you know Paul, you know he's an Olympian for giving to his community.
As spoken, "Paul is a true gentleman, a generous non-profit supporter and loyal community advocate. While exhibiting an incredible work ethic running a successful business, he stays engaged with the everyday challenges and opportunities faced by his beloved Town of Westerly."
Paul champions our community image with contractors, customers, and national companies with whom he conducts business. "We cannot imagine a more humble citizen yet a more consistently engaged citizen than Paul Donahue. He is an incredible volunteer, but even more important, an extraordinary human being. The Ocean Community Chamber of Commerce is deeply proud to honor Paul Donahue as its 2017 Citizen of the Year.
by Karen Koerner
True to his word, Guy Fieri stopped in for a visit to his Guy Fieri's Foxwoods Restaurant Kitchen and Bar June 1, to talk food, demonstrate how to unmold his famous "Trash Can Nachos," and to visit with friends at Foxwoods Casino Restaurant.
First the food. As guests watched, Guy carefully finessed a mold from layers of nacho chips, cheese, onions, hot peppers and more, leaving a crispy, cheesy stack of nachos where every bite is delicious. He joked with Lena Sternburg, a nearby Food Instagrammer, that she had to eat it all. "I'll be back in five minutes," he said. "They're really good!" Lena exclaimed.
Guy, famous for visiting down-to-earth eateries around the country in his popular show, "Diners, Drive-ins and Dives," was diplomatic when asked to recommend restaurants. "It's impossible," he said, but then got serious. "Go and look," he said, advising the group around him to experiment with all types of restaurants and foods.
Conversation soon turned to one of Guy's favorite topics: the Best Buddies program, which is the world's largest organization dedicated to ending the social, physical and economic isolation of the 200 million people with intellectual and developmental disabilities (IDD). Guy Fieri's Foxwoods Restaurant Kitchen and Bar employees Best Buddies to give these people with IDD a chance to be a productive part of society. For Guy, it's a personal commitment.
"I had a cousin with an intellectual disability," he explained. "I have first-hand understanding of how misunderstood people with intellectual disabilities are." Guy supports the Best Buddies fundraising efforts and loves spreading the word about the charity. "When you work hand-in-hand with the Buddies you get to see their energy and sense their involvement," he said.
Guy was in New England to participate in the Best Buddies Challenge weekend at Harvard Stadium in Massachusetts. During the June 2 kickoff of the event, Foxwoods presented a donation of $100,000 to the charity.
This is Guy's first visit back to his restaurant since the ribbon cutting ceremony last fall. He took a quick tour with Felix Rappaport, President and CEO, Foxwoods Casino and Guy's long-time friend, checking out the changes in the stylish eatery since he was last here.
Guy's Foxwoods eatery features his famously big burgers, crab fondue, explosively-flavored entres, spectacular drinks and more. It's everything you would expect from a visit to Flavortown.