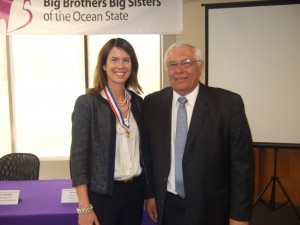 FOR IMMEDIATE RELEASE – July 1st, 2014
CONTACT:  George Marley
401-921-2434, Ext. 124
BIG BROTHERS BIG SISTERS OF THE OCEAN STATE TO ANNOUNCE IT'S COMING TOGETHER WITH BIG BROTHERS OF RHODE ISLAND AT PRESS CONFERENCE – PRESS CONFERENCE WRAP UP 
Cranston, RI – For over 60 years, Big Brothers of Rhode Island (BBRI) and Big Brothers Big Sisters of the Ocean State, both local affiliates of Big Brothers Big Sisters of America, have worked separately by coming to the aid of hundreds of boys and girls statewide by providing them with life-changing mentors. Now, in a historic collaboration, both organizations have come together to serve the growing number of children throughout Rhode Island who could benefit from the positive influence an adult role model can have on the life of a child in need. They will consolidate resources to continue to be the leading mentoring program, under the direction of Executive Director Deb Saunders, serving over 600 children and their families annually as Big Brothers Big Sisters of the Ocean State (BBBSOS).
Big Brothers Big Sisters is a proven and trusted mentoring program that is nationally recognized for connecting young people with a caring mentor who can help to build their confidence, expand their horizons, encourage them to stay in school, and make healthier choices like avoiding drugs and alcohol. Our organizations have a combined 110 years of experience providing services to children throughout Rhode Island! Together, they will provide services to over 600 children every year, with over 100+ boys and girls still waiting for a mentor.
The coming together of these great organizations was announced July 1 via a press conference held at the headquarters of Big Brothers Big Sisters of the Ocean State, 1540 Pontiac Avenue, Cranston, RI 02920.
Watch the announcement:
Deb Saunders, Executive Director of Big Brothers Big Sisters of the Ocean State, had this to say: "I am so excited that this historic moment has finally arrived. It has been a long time coming and we have worked very diligently with so many fabulous, caring, individuals who truly have the best interest of the youth of Rhode Island in mind. I look forward to continue building an even stronger network of services for the children and families of Rhode Island. We believe that the work we do and the people we engage on a daily basis have seen a positive change in their lives and will continue to do so for years to come."
The Honorable Jack Reed spoke of the youth of Rhode Island and America "We have to provide the same [mentoring] efforts and services to the next generation of Rhode Island and America.  
Jo-Ann Schofield, President and CEO of RI Mentoring Partnership commented on the continued success of the prevailing organization.  "[BBBSOS] has achieved the highest designation, "Premier" after completing the rigorous quality assessment process.  They have proven time and again that they are a great organization with a great Executive Director and leadership that continuously seeks opportunity for growth." 
Joe Manera, Board President of Big Brothers of Rhode Island, said BBRI is closing down its headquarters in East Providence on June 30, but that he will stay on "until the last 't' is crossed and 'i' is dotted," take a break from serving for about six months and then possibly take on a new role within the larger organization. "The shared mission of the two groups may have led to a little confusion but the mission is the children. The mission is not about the people in the agency. Mentoring for children, that's the underlying reason [the groups have existed]." 
Cranston Mayor and Republican Gubernatorial candidate Alan Fung, who gave closing remarks, said "It is an honor to be here for this historic and critically important day in the mentoring mission."  He remarked on his former career as a professional prosecutor, seeing young men and women who "need help and guidance and are crying out for the guidance that they need." 
To find out more about our mentoring programs and how you can make a difference in the lives of children across the state of Rhode Island, visit www.BBBSOS.org or call 401.921.2434.